FLYSURFER presents the world's fastest kite – the SONIC Race VMG – Florian Gruber wins his third successive TT:R World Championship Title!
A fleet of the globe's fastest young kite racers had gathered to battle for the 2018 TwinTip: Racing World title on the warm, turquoise waters off southern Italy's Hang Loose Beach. The strong field of 59 racers from 19 countries, including the two-time world title holder, Germany's Florian Gruber, went head-to-head in the frenetic TT:R slalom-boardercross discipline over five days of competition with a share of €10,000 for the "open" men's and women's World Championship titles at Gizzeria, Calabria.
The 17 men and 14 women fighting for the world titles are allowed to use any twin-tip board and and any combination of kites, though the most experienced racers have selected without doubt foil kites as their weapon of choice. In the men's division, our Flysurfer athletes Martin Dolenc and Florian Gruber, is considered as strong contender for the World Championship title. Martin Dolenc is one of 24 boys and girls born between 2000 and 2003 who have qualified for YOG in October in Buenos Aires, Argentina. In the women's "open" division, Flysurfer's newest team member Daniela Moroz, the two-time International Kiteboarding Association (IKA) Formula Kite hydrofoil world champion, entered her first TwinTip race this year without any expectations.
After the opening day in super light wind, our athletes found themselves behind Titouan Galea, who pinned Florian Gruber and Martin Dolenc behind in second and third spot. "This is my first time at twin-tip racing, so naturally I'm pretty happy," said hydrofoil race veteran Galea. "I had a couple of good starts which really helped. I was lucky in the final as the wind dropped a little, so it was harder for the other guys who're heavier." Also Daniela Moroz had a hard time, getting used to the slalom format and conditions in Gizzeria finishing on the 12th place after day one.
Day two saw Florian who had suffered mixed fortunes in the opening exchanges with a measured performance, better speed and consistency to propel him up the rankings a winning all eliminations and was pleased to get his hopes at a hat-trick. "I'm pleased to win the elimination round decider to go top," said Gruber. "But in the process I broke my favourite 15m SONIC Race VMG kite in a bit of a tangle on the beach. So I'll have to change it. Let's see what happens."
Most of the girls battling for the "open" TT:R World Championship glory, chose to pit growing pace and skill against one another as they vie for that title. France's Poema Newland cemented her overnight lead with a solid outing in the light breezes. Flysurfer athlete Daniela Moroz also moved swiftly up the order to second on the leaderboard with a series of clean races where she managed to steer clear of trouble.
On the third day of competition the pressure of the intense downwind slalom-boardercross races – with jumps added to enhance the spectacle – saw the women's pack reshuffled with the strong Italian team commanding the heights in the standings. Consistently high-placed finishes in the vital elimination round deciders pushed Irene Tari to top of the leaderboard, with former TT:R Youth World Champion, Sofia Tomasoni, rising to third spot.
In the glorious south Italian sunshine Germany's Florian Gruber, going for his third successive TT:R World Championship title, stretched his overall lead with two comfortable elimination round decider wins thanks to his perfect starts and pace reaching the all-important first mark. Yet in the second of the day's showdowns in perfect 15kts breezes blowing over flat Mediterranean waters, Gruber was caught in the mayhem of a spectacular four-kite tangle while leading on a drag race to the first mark. Florian was given "redress" and a first-place position that tightened his grip on the top spot, one that the chasing pack of TT:R European Champion.
France's Victor Bachichet sits in third, just behind FLYSURFER athlete Martin Dolenc, and is looking to improve his standings. "I would certainly like to get up to second, or even first spot," said Bachichet. "But I have to make good starts, that's the most important thing. But Gruber is very good at the start and getting to mark one first."
Daniela, who was often not the quickest on the course, agreed. She forged her way to second spot as others fell by the wayside, courtesy of penalties that pushed they down the order. "I'm a bit puzzled over how I got to second spot," said Moroz. "Everyone else is making mistakes. You just have to really careful about your sailing. Penalties are costly, so it's really important to sail clean."
The final day arrived and the crowd saw a nerve-jangling final at the end of a thrilling kiteboard slalom-boardercross! Huge congrats to our Flysurfer athlete Florian Gruber who was thrilled to claim the crown in the men's TT:R Worlds division, his third successive title, right before his team mate Martin Dolenc who took 2nd place. "It might have seemed easy, but it's always hard," said Florian. "I had pretty clean racing most of the time and I didn't make too many mistakes, so I was pretty relaxed. But for sure all the younger kids have got a lot better in the last year because they've been training for the Youth Olympic Games [YOG]. So, I really enjoyed it."
In the women's fleet local girl Italy's Sofia Tomasoni seizing the TTR: Worlds title! "I'm really stoked because I so much wanted this second title," said a visibly relieved and elated Tomasoni. "This is where I learned to kite. This is where my family are. It's fantastic to get it here. I had problems on the first two days. That was heavy for me."
In the end Daniela Moroz claimed herself a podium spot and is extremely happy about her performance. "I went into the event with no expectations whatsoever, and mostly wanted to go back to Gizzeria to do some foil training. Flo convinced me I should race and brought an extra board. I ended up racing and was super stoked with my result. I did not even expect to make the podium because all the other girls have been training for the youth Olympics and are familiar with the format. It was a slow start for me but after a couple rounds I managed to get a hang of it. It was impressive to see the VMG's dominating many of the open heats. Proves just how good those kites are outside of foiling!"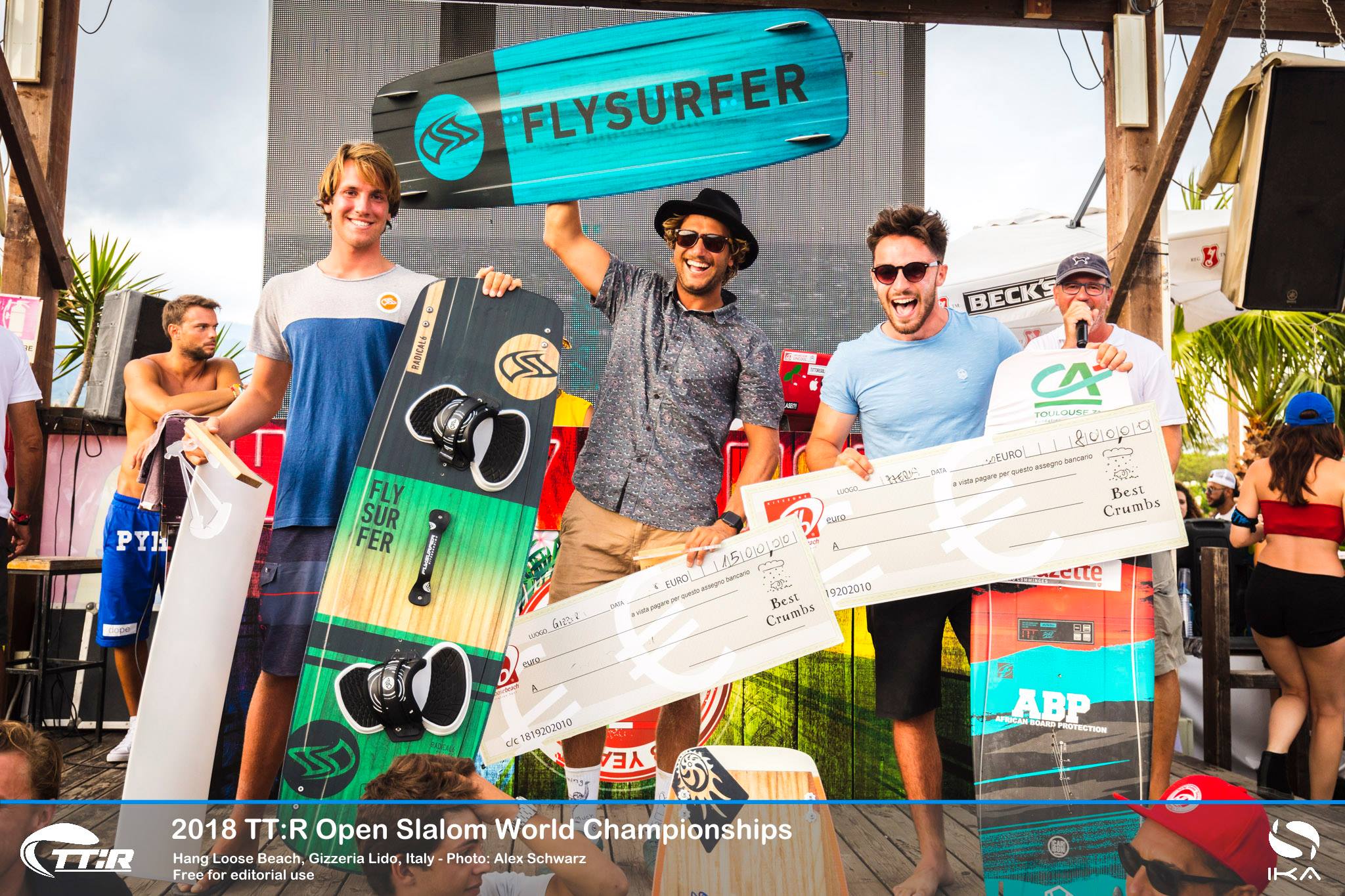 Top three men TT:R Worlds after eight elimination rounds (three discards)
1 Florian Gruber (GER) 5pts
2 Martin Dolenc (CRO) 8.5pts
3 Victor Bachichet (FRA) 14.5pts
FLYSURFER Kiteboarding is grateful to have you guys on the team and we wish you good luck and all the best for the upcoming International Kiteboarding Association (IKA) Formula Kite hydrofoil World championships!
Full results and source: http://twintipracing.com/
Pictures: Alex Schwarz