Hood River, Oregon, has once again met our expectations!
Last week, the FLYSURFER team embarked on a journey of winging and kiting, mingling with industry at the annual AWSI event. Our team is still buzzing from a fun trip, marked by great wind conditions.
We were joined by an exceptional crew this year, including Nathan Van Vurren (Flysurfer Wing Team Rider), James Leigh (Foil & Wing Ambassador), Julian Zen (Big Air Rider), Mike Jablonski (Ambassador from California), Chris Hesina (Brand Manager), and Maximilian Kuehnhauser (R&D).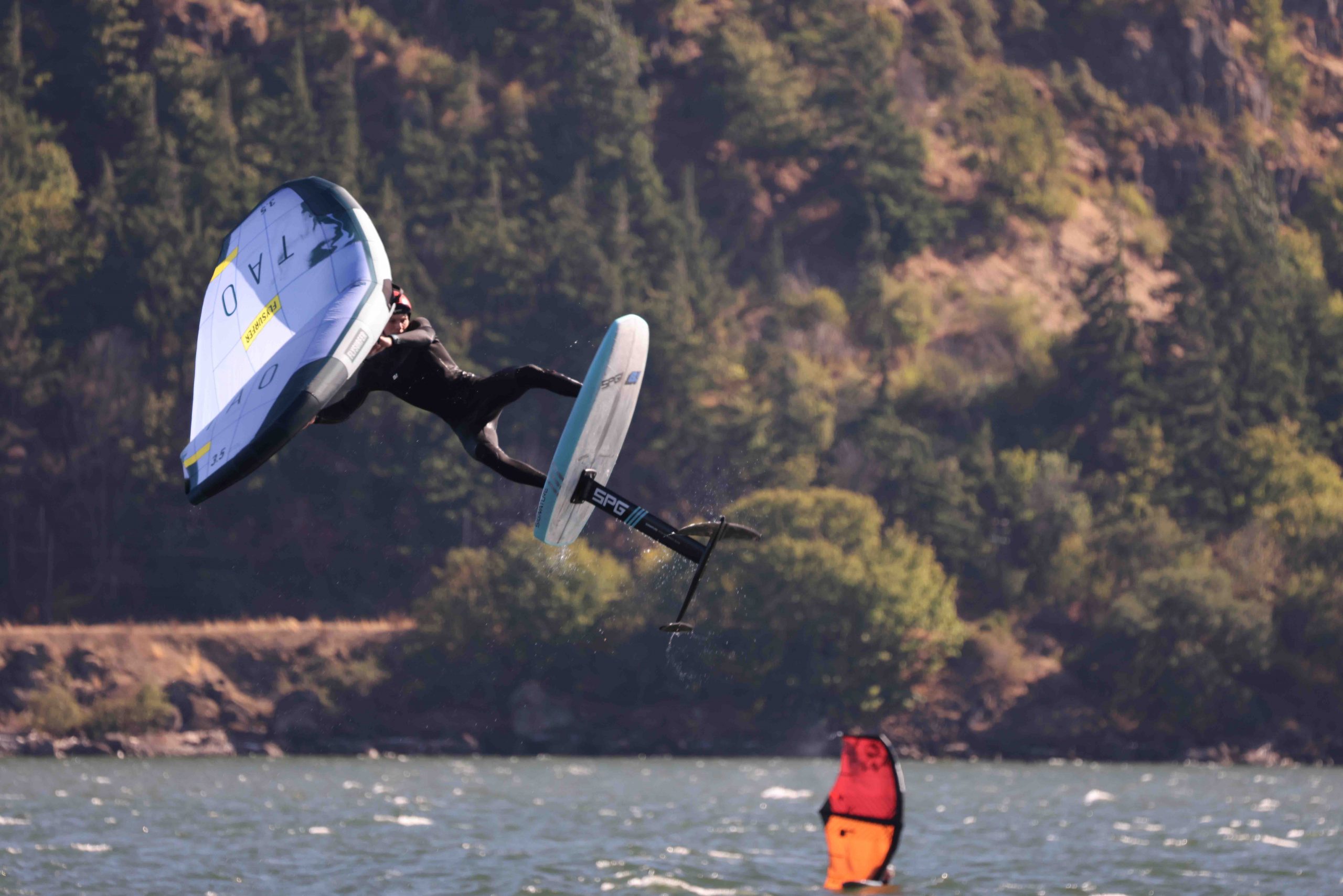 Despite long journeys from South Africa, Germany, California, or Canada, we gathered at Rufus two days before AWSI. Despite any jet lag or fatigue from the journey, our excitement was palpable as we geared up to tackle the swells and winds. It proved to be a good day to use our TAO wing. Nathan impressed us with his jumps and tricks, while Julian quickly learned winging, displaying comfort even in the challenging swells.

Wednesday marked the start of AWSI, commencing at 9 am as the first guests arrived at the Event Site in Hood River. This annual event brings together major brands, North American Dealers, schools, instructors, ambassadors, and team riders to showcase their latest innovations and upcoming projects. It also provides us with an opportunity to bond in the water.
The first two days of AWSI treated us to good westerly winds and the typical Hood River currents, creating suitable conditions for winging, testing various LEI kites, and performing tricks.
Many wings were put to the test, and smiles were abundant all around.
On day two, Nathan's enthusiasm led him to spend a remarkable 6 to 7 hours in the water. It's no surprise he needed to refuel with five burritos! Conditions were perfect for testing the SONIC4 and our upcoming LEI Big Air kite, the ERA.
Day three brought lighter winds. Nathan was the first to hit the water with the TAO 6.2m wing, while the rest of the team took to foiling with the SONIC4, except for Mike, who continued with his setup, utilizing our single-skin kite, the PEAK. Continuing a tradition from last year when we introduced Nate to kitesurfing, we decided to teach James how to kite foil as well. Coming from South Africa, James had never kited before, but he embraced the challenge, mastering it with the Hybrid 9.5m. Well done, James! You demonstrated how efficient the Hybrid is for relaunching.
We extend our gratitude to our FLYSURFER Dealers, Schools, Instructors, and Ambassadors who dedicated their time to demo our gear and share their experiences with us. You are instrumental to our success, and we appreciate your expertise in showcasing our products.
Thanks to Marina and the AWSI board for a superb event.

We value the moments we shared in the water, unveiling new gear and showcasing tricks.
Most importantly, we created lasting memories with industry peers and within our own team.
Until next year, Hood River!