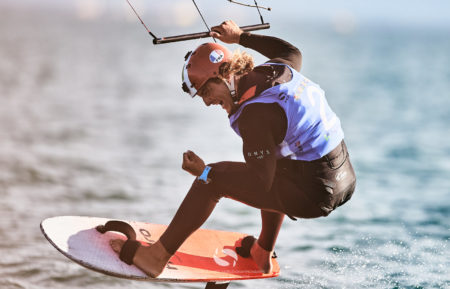 "I'm just super-happy," Théo said.
"It was intense in the final, but I tried to take it step-by-step and just do my best. It feels so great. Really, really happy. It makes a big difference because the Olympics are getting closer."
"I'm really happy to make it five," said Daniela.
"It feels really surreal and I haven't processed it yet. I'm still kind of absorbing it and enjoying it. It was a really tough week in all of the conditions. Then, in the end it all comes down to the last race. I was definitely a bit nervous this morning, but we got through it."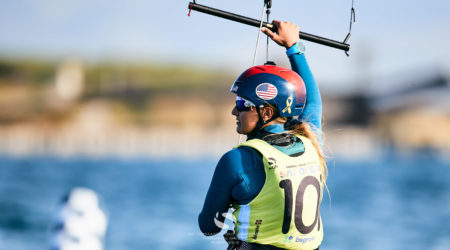 Théo was acutely aware of the approaching Olympics, when kiteboarding will make its debut in his home country at the Paris 2024 Games, further raising the stakes and shining the spotlight on his victory. De Ramecourt led almost all the way around the windward-leeward track in the first finals race, only to find himself passed by a scorchingly-fast Mazella on the last downwind leg. But De Ramecourt put the matter to rest with a bullet the second time around, seeing off Pianosi, who took third overall just behind Mazella.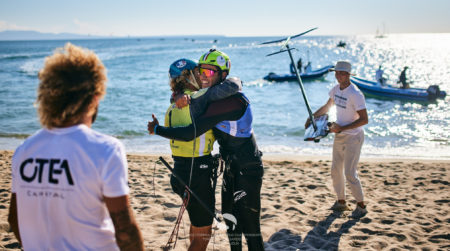 "The final was pretty intense," said Mazella.
"I managed to win the first race just at the end. The second, I tried a port-tack start and it didn't work out. But in the end I'm still super-happy about my consistency. I'm also really happy for my mate, Théo de Ramecourt."
In the men's semi-finals, Italy's remarkable 16-year-old Riccardo Pianosi squeezed out more experienced opposition, like Britain's Connor Bainbridge and Germany's Florian Gruber, to take two bullets that ensured he moved forward to the final.
The phenomenon of the 2021 Worlds, Pianosi, was still trying to process his third step on the podium after beating some of the world's best.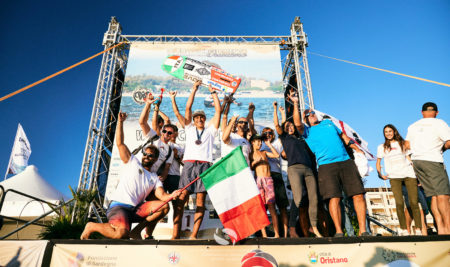 "This is my first world championship and I can't quite believe it," said Riccardo.
"The emotions are just so strong. When I got the two bullets in the semi-finals it was an incredible feeling. But I knew in the final it would be tough. Théo de Ramecourt is really, really fast, especially in these conditions."
Women's Podium:
Daniela Moroz USA (VMG)
Ellie Aldridge GBR
Lauriane Nolot FRA
Poema Newland FRA
Magdalena Woyciechowska POL (VMG)
Izabela Satrjan POL (VMG)
Julia Damasiewicz POL
Nina Arcisz POL
Alexia Fancelli ITA
Maddy Anderson GBR
FLYSURFER congrats all racers for an outstanding performance and a thrilling event.
Full rankings: www.formulakite.org/results
Credits: IKA – International Kiteboarding Association | Robert Hajduk