SONIC-FR
Race, Hydrofoil, Airstyle
The SONIC-FR is a highly tuned ultra high aspect-ratio racing wing. Merciless performance on all terrains combined with sophisticated handling, feel the buzz of extreme lift to drag ratio, for experienced riders and IKA race professionals.
| | |
| --- | --- |
| TECHNOLOGY | Closed Cell Foil Kite |
| SKILLS | Advanced + |
| SIZES | 9 / 11 / 15 / 18 |
| TERRAIN | |
// ULTRA HIGH PERFORMANCE AIRFOIL
// OPTIMIZED FOR COMPETITION
// RACE CONTROL BAR & FLYING LINES
"With its amazing upwind performance and incredible speed the SONIC-FR fits perfect to my personal requirements of a super fast and competitive racekite."
Peter Müller, FLYSURFER Athlete & skywalk R&D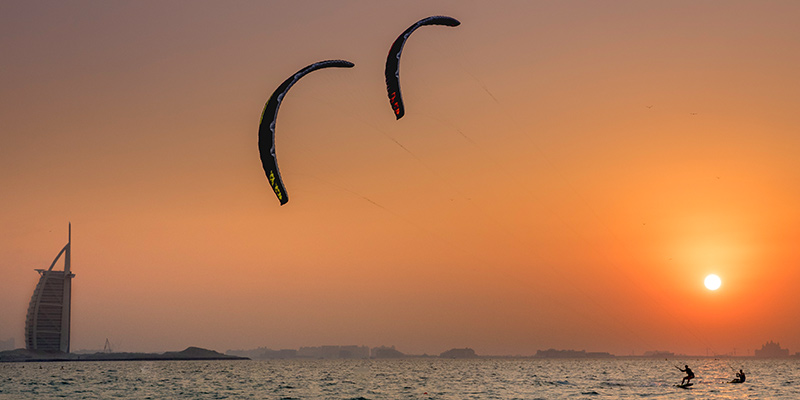 Double Cordwise Ballooning
Double Cordwise Ballooning is minimizing the creasing of the cells on the kite to an absolute minimum. With exactly calculated arc-shaped panel cuts, double-stitched and glued seams a perfectly smooth, high performance airfoil is created. This optimizes the aerodynamics, especially the glide ratio, and the low end.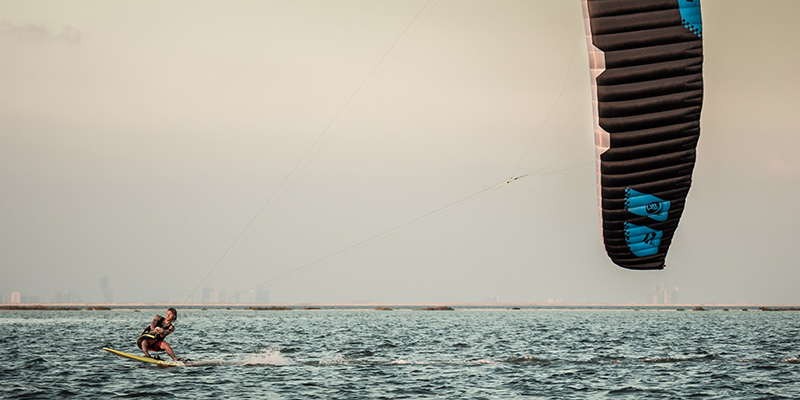 Flat Winglet Technology
The Flat Winglet technology reduces the induced aerodynamic drag, but at the same time increases lift. This leads to a noticeable improvement in lift to glide ratio and forward flying speed of the kite. As well as better turning speed without wingtip collaps.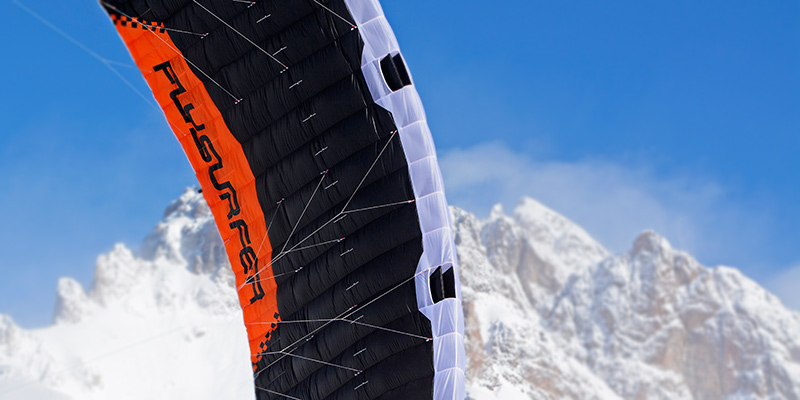 Maximum Pressure Valves
The M.P.V in the center of the leading edge provide maximum air pressure inside the kite. The kite fills fast and accelerates even when fully depowered. A moving separator inside the valve transfers the airflow directly into the kite, regardless of angle of attack. Therefor the kite is stiffer, more responsive and stable.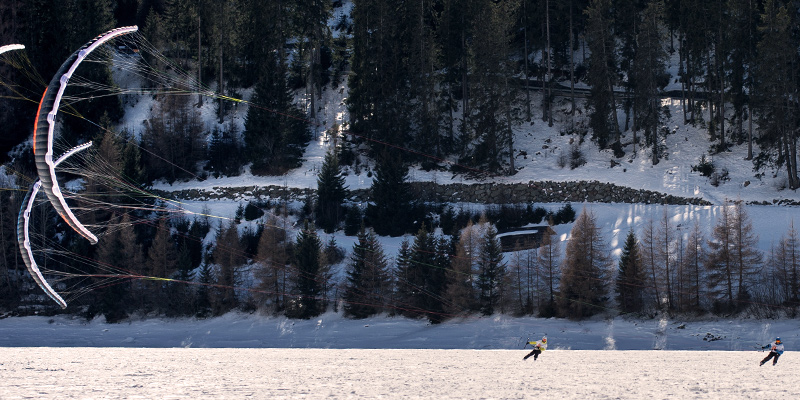 Low Drag Lines
Thanks to a new ultra high-strength Dyneema SK99 fiber core, we developed in cooperation with LIROS new, significantly thinner race lines. The front lines have only 1.45mm thickness and 300kg breaking load, the back lines an amazing 0.8mm thickness and 160kg breaking load. The completely unsleeved Dyneema bridle is correspondingly even thinner.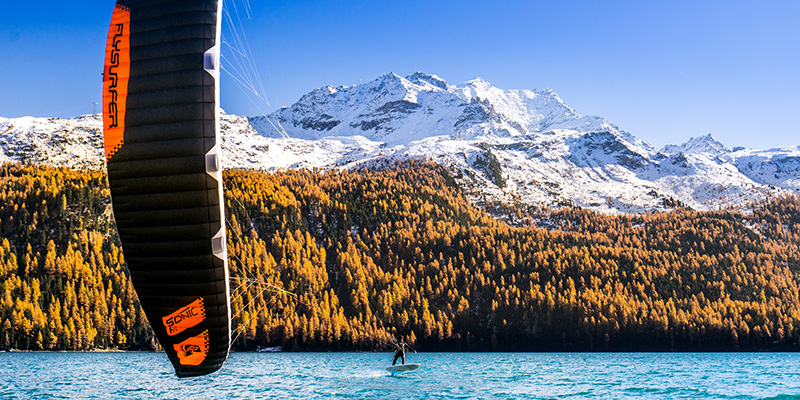 Rigid Foil Technology
The Rigid Foil Technology is used to reduce wrinkles on the leading edge. This results in reduced aerodynamic drag and enhanced kite stability. Rigid Foils are also used to stiffen the trailing edge of the kite canopy. As a result, the SONIC-FR translates every gust of wind into propulsion without deforming the canopy. Thanks to the Rigid Foil Ribs the kite canopy is stiffer and more dynamic.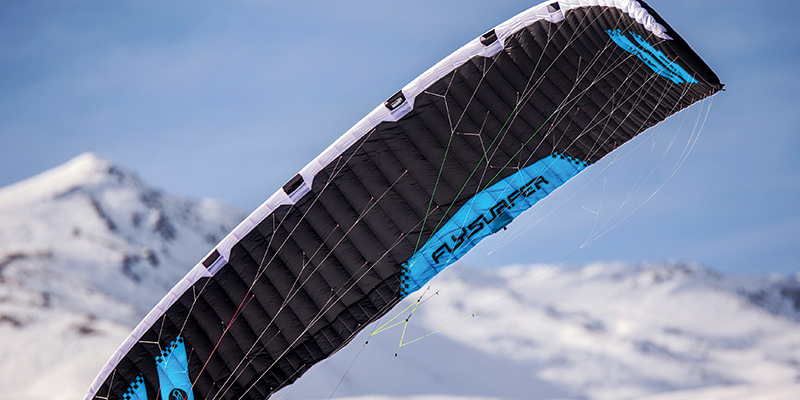 Cloth Material
Thanks to Double Cordwise Ballooning and Rigid Foil Technology we have found a technical solution that eliminates the slight weight penalty and wrinkling of the Deluxe cloth. Different fabrics are used for internal ribs, v-cells and straps since airtightness is less significant here, but diagonal stiffness is important. The SONIC-FR top and bottom sail fabric are deluxe cloth, which has no disadvantage in performance and pricing is not increased unnecessarily.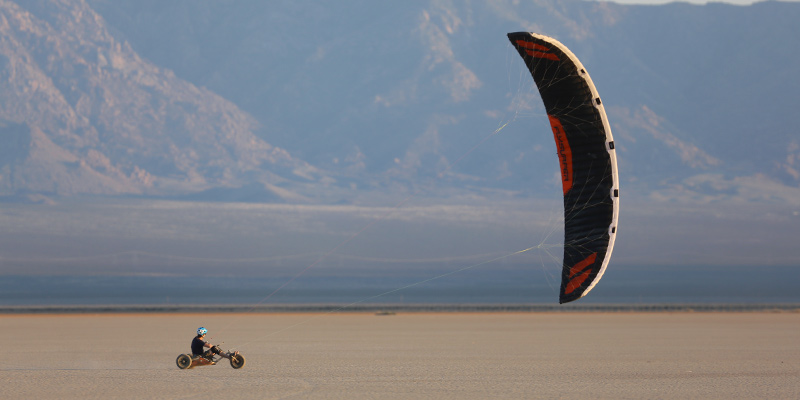 Triple Depower Technology
There are 3 ways the kite achieves its maximum depower: Reducing the angle of attack, profile change and reducing the projected area. This leads to a huge wind range and ideal handling.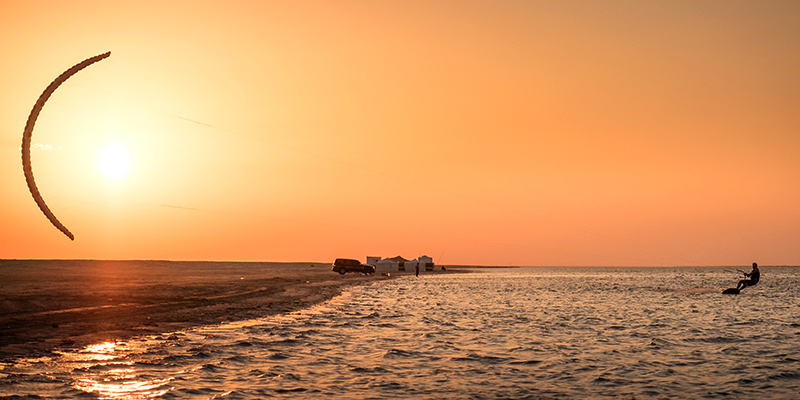 Automatic Drainage System
The proven drainage system integrated in the whole trailing edge of the kite, with finally openings near the tips, about the size of a hand. They allow water and sand to be drained automatically, without influencing the performance of the kite.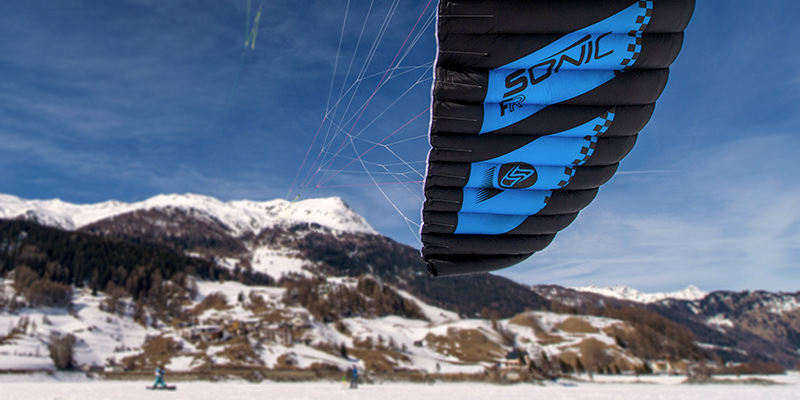 Sharp Mini Ribs
To optimize the airfoil, the number of cells on the trailing edge has been doubled. This gives the SONIC-FR a razor-sharp trailing edge, otherwise known only from competition paraglider's. Drag is reduced and the kite remains light.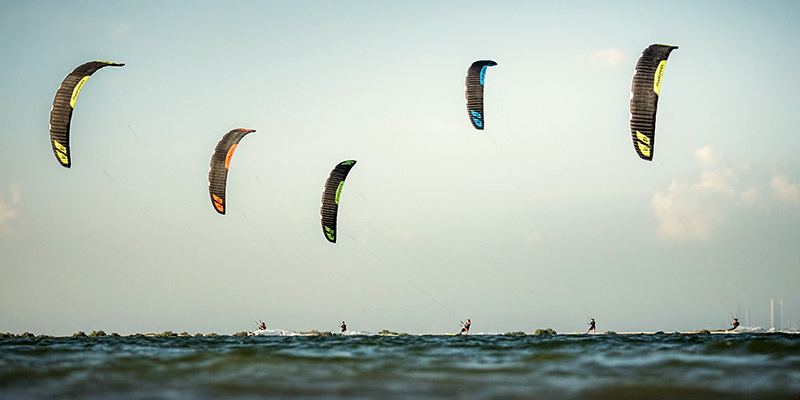 IKA registered
FLYSURFER is passionate about kite-racing and has registered the SONIC-FR kite officially. This allows you to attend every official IKA racing event. Even if a FLYSURFER kite construction is officially approved for kite racing in the IKA class – Formula Kite, this does NOT mean that the kite itself is automatically IKA registered. This must be registered by the rider him/herself, so that he/she is allowed to officially compete in the IKA class – Formula Kite and it's specific events. Link to registration form
The SONIC Full Race is optimized for competition with merciless performance on all terrains (Water, Land & Snow). The sheer force of this pure racing machine, gives you speed thrills, goosebumps and more, with the kite cutting through air at angles into the wind never seen before. The most extreme lift and hangtime any FLYSURFER kite has ever delivered, is now combined with sophisticated handling, in a unique super high aspect-ratio, closed-cell ram-air foilkite. Hydrofoil and Formula board riders will love the SONIC-FR. It is insanely fast and delivers amazing low- and high end performance. For twintip riders it opens up a whole new dimension for airstyle tricks.
Its engineers worked in conjunction with the best hydrofoiling and snowkite athletes to sculpt this amazing wing. Together with the most advanced technology available from our paragliding department, we were able to achieve the most powerful and performance orientated race kite. The SONIC-FR is the pure expression of FLYSURFER's DNA: Innovation, Aesthetics and Performance.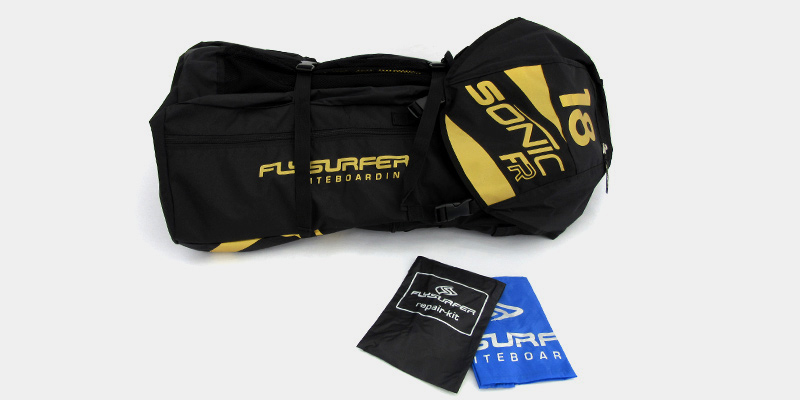 Total package consists of:
1x SONIC-FR "kite-only"
1x Sandbag
1x Repair Kit (depower line and further spare parts)
1x SONIC-FR Kite Bag
1x SONIC-FR Gear Guide
| SONIC-FR | 9 | 11 | 15 | 18 |
| --- | --- | --- | --- | --- |
| Color | green | cyan | orange | lime |
| Area (flat) | 8.6 | 11.4 | 14.6 | 18 |
| Area (projected) | 7.0 | 9.4 | 12.1 | 14.8 |
| Aspect Ratio | 6.75 | 6.75 | 7.0 | 7.0 |
| Cells | 49/95 | 49/95 | 49/95 | 49/95 |
| Depth of the profile (cm) | 133 | 153 | 170 | 189 |
| Flat Wing Span (cm) | 762 | 877 | 1011 | 1123 |
| Weight = canopy + complete bridle + mixer (kg) | 2.1 | 2.6 | 3.1 | 3.6 |
| Recommended barsize | 50 | 50 | 50 | 60 |
| SONIC-FR | 9.0 | 11.0 | 15.0 | 18.0 |
| --- | --- | --- | --- | --- |
| Water TwinTip (knots) | 13-42 | 9-32 | 7-25 | 6-20 |
| Land / Hard snow / Hydrofoil (knots) | 9-32 | 6-22 | 5-17 | 4-14 |
The Wind Range Chart is to be used as a point of reference. It is based on a rider who weighs around 75kg (165lbs.) Actual use will vary depending on your weight, skill level, board size and the wind conditions on the water or land. When choosing a kite size, always use common sense and always choose a smaller size if you are not sure, especially when using the kite on land.