IKA-REGISTRATION
Register your kite for competition
Register your FLYSURFER race kite today for free on our website and receive your unique IKA-Identification number for all official IKA-Races. We have approved all sizes of the following products: BOOST, BOOST2, SONIC-FR, SONIC2, SONIC RACE
We are very proud of our racing virtue and the excellence of our high performance kites. The kites listed above are officially approved but that does not mean that your kite itself is automatically IKA registered. This must be registered by the rider him/herself. Kites used during IKA Formula Kite or EC/WC Formula Kite/ Hydrofoil events must be equipped with a unique IKA Plaque ID number; otherwise the rider will be immediately disqualified and might be banned for future events.
Here is what to do to register:
Fill out the form below to obtain your free of charge ID number.
You will receive the ID number in your email account.
Use a permanent marker and fill in this ID number neatly into the IKA plaque printed on your kite (see image). The model and manufacturer´s serial number must be entered on the IKA plaque as well!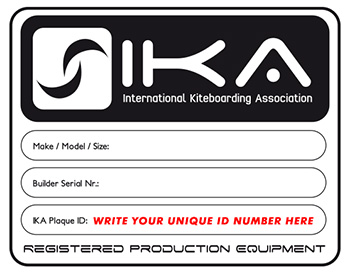 Please fill out the form below for your personal IKA registration: