PEAK2
Touring, Freeride, School
The PEAK2 is a unique touring-kite. Super light weight, smallest pack size with unmatched light wind performance and handling. Its direct steering will quickly lift you to mountain summits. Innovative single-skin technology with depower for every explorer.
| | |
| --- | --- |
| TECHNOLOGY | Single-Skin Foil Kite |
| SKILLS | Beginner + |
| SIZES | 4 / 6 / 9 / 12 |
| TERRAIN | |
// ULTRALIGHT SINGLE-SKIN CONCEPT
// MINIMALISTIC PACK SIZE
// INFINITY LIGHT CONTROL BAR
"Unmatched low-end. Easy to handle and carry, go wherever you want."
Reinhart Paelinck MSc, FLYSURFER R&D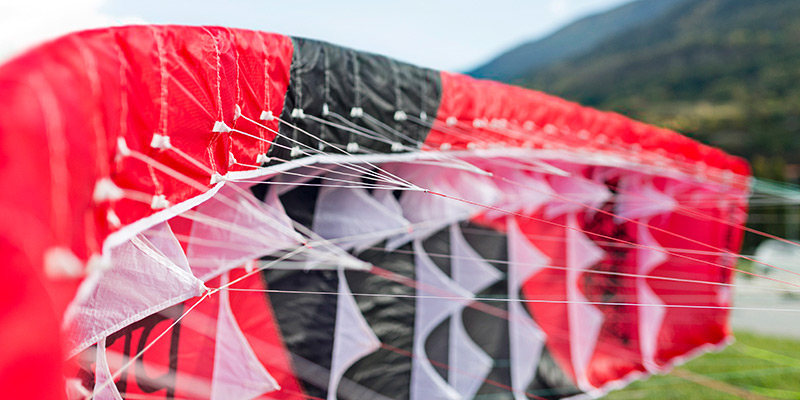 Single-Skin Technology
The PEAK2 has no bottom sail, resulting in a huge reduction in weight and more performance per square meter. And thanks to the efficiency of the PEAK2's depower system, all this power remains controllable. When it comes to low-end and wind range, the PEAK2 definitely sets new standards.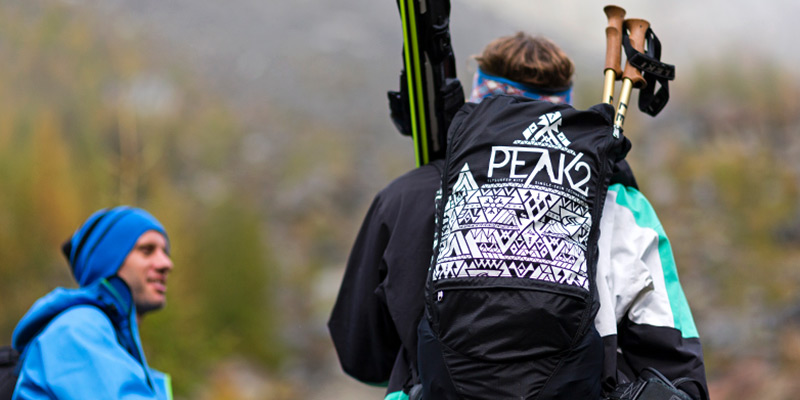 Minimalistic Pack-Size
The super-small pack size of only 52x14x14cm (HxLxW) for the 6.0m ready-to-fly PEAK2 means it fits easily in any travel bag, saving you money on additional sports equipment charges. The featherlight weight of the 6.0m r.t.f (1.94kg) is a huge advantage in comparison to common closed-cell, open-cell or L.E.I. snow kites – which you'll definitely appreciate while hiking up mountains!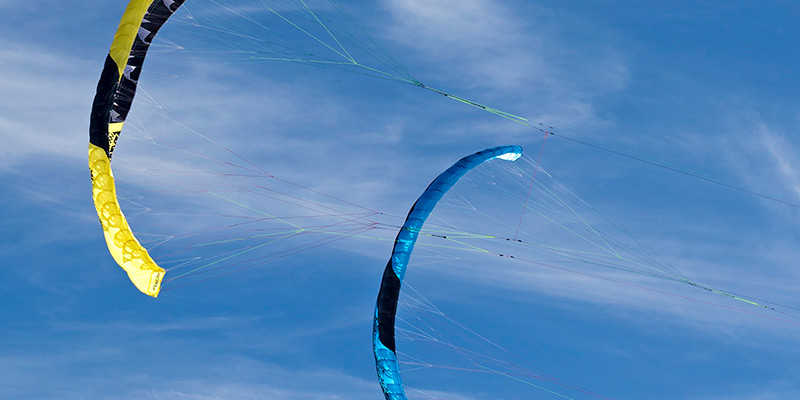 Unmatched Low-End
Fun in 3-4 knots? The PEAK2 makes it possible! Even in extreme light winds, the kite provides incredible stability, usability and perfect control.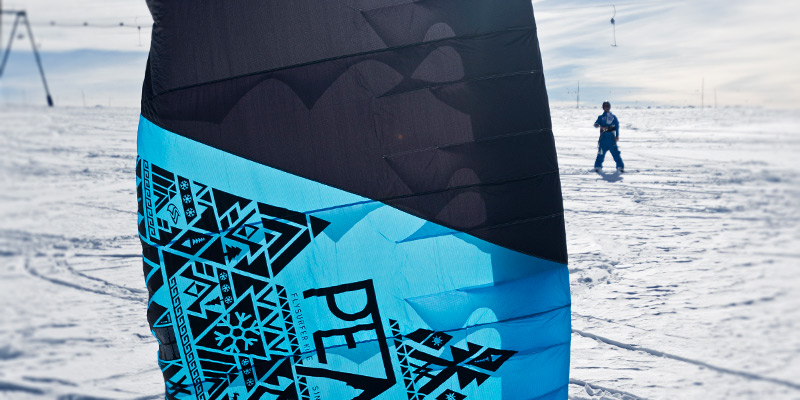 Easy Handling
No pre-filling or pumping is necessary, simply unpack the PEAK2 and you're ready to go in the blink of an eye. It really is the most user-friendly kite in kitesports history!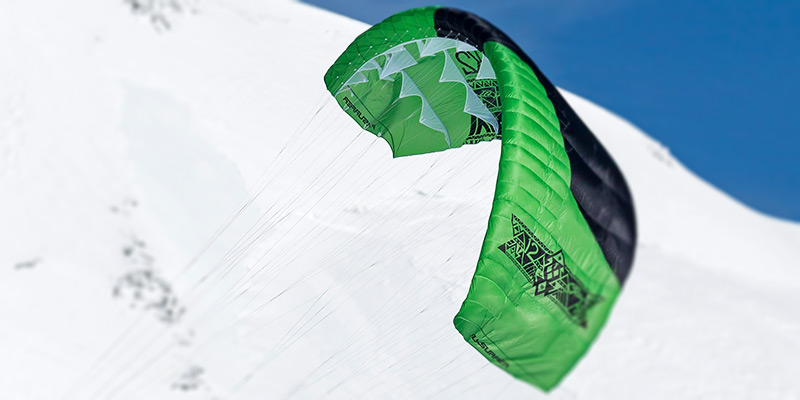 Quality of Workmanship and Durability
With the PEAK2 we remain true to the FLYSURFER philosophy to make our products durable. Each cloth, each line and each component has been tested extensively, we always go for quality and functionality over price.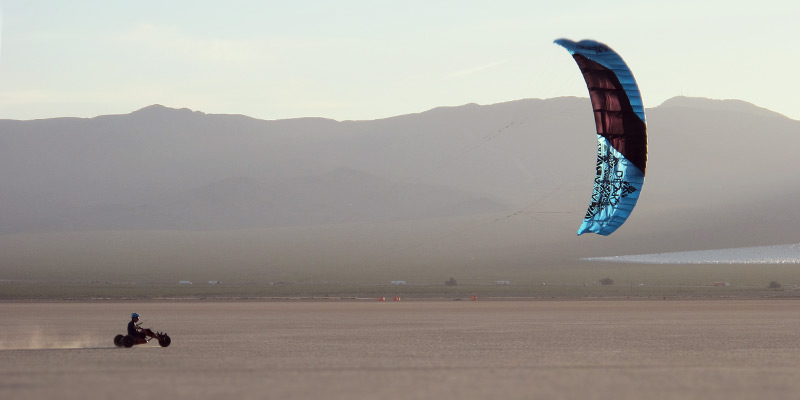 Universal Application
Whether it's on land or snow, with a kite landboard or a buggy, skis or snowboards, for freeride or teaching purposes, adults or children, beginners or advanced, for urban street kiting or as a traveling companion, the PEAK2 is your ultimate weapon for a daily session.
PEAK2 … only the sky is the limit!
The PEAK2 is your personal lift to the summit of mountains. No pre-inflation or pumping is needed, so it's always ready to go for a session. Its unmatched low-end power will guide you to new locations, even in the slightest breeze and thanks to its effective depower, you'll be safe and in control, even in stronger winds. The PEAK2 will soon become your go-to kite, the kite you want to use every day, so you won't miss out on that great session, even as a beginner. Because of its small packing size, and its optional touring bag/harness, you can literally take the PEAK2 anywhere you want. This combination will make it your ultimate toy either on snow, sand, grass or asphalt. It's your passport to pure freedom.
New Colors
From mid-December on, the sizes 6.0m and 9.0m are coated in refreshed colors. The 6.0m shines in a fresh aubergine/yellow, while the 9.0m is now available in an elegant aubergine/orange look. Apart from this new design all technical features of the kite remain unchanged.
Safety
When it comes to safety, we do not compromise. The PEAK2 now has incredible stability in light breezes and gusty winds, so you always remain in charge, no matter what happens. After activating the Infinity 2.0 quick release on the Infinity light bar, the front-line safety (FLS) makes the PEAK2 flag-out downwind with no remaining pull. Whether you need to reverse launch, backstall landings, or simply drop the kite at the edge of the wind window for a short break, the PEAK2 does it all, giving you optimum control in every situation.
Usability
Choose your favorite size from the new PEAK2 line-up – 12.0m, 9.0m, 6.0m or 4.0m. Whichever you opt for, your PEAK2 will be delivered ready-to-fly and complete with your Infinity light control bar and flying lines. It's ideally suited for backcountry touring, freeride snowkiting, kite landboarding or buggying – even unhooked freestyle tricks are possible. When it comes to improving your skills, the PEAK2 also stands out from the crowd, making it the perfect choice for kite schools. And thanks to its easy controllability, it allows for pure fun in your kiting sessions, even for children. Once equipped with our kite and touring bag/harness, all you need to do is hook in the Infinity quick release on your Infinity light bar and prepare for launch. Whether you're on land or snow, only the sky is the limit with the new PEAK2!
Infinity Light Bar
The new lightweight bar setup for the PEAK2 consists of: Infinity 3.0 bar stick, a new easy adjuster (clamcleat) and the Infinity 2.0 quick-release system with easy untwisting function. Even greater comfort to reach for the top.
No Compromise on Safety
A proven frontline safety (FLS), the 2.0 Infinity quick release and Infinity light control bar allow maximum security about your safety. If activated, the Infinity 2.0 quick release can be reassembled within seconds, so your PEAK2 is ready to fly again.
Touring Bag with integrated Kite Harness
This optional extra is a light trekking backpack with an integrated kite harness in which you can put conventional hydration packs. The straps on the touring bag attach around your waist and thighs, while the chicken loop attaches through special metal loops. This saves the need to bring a standard bulky and heavy harness along. But this bag is not a harness replacement – it's designed for maximum weight savings for expeditions and freeriding.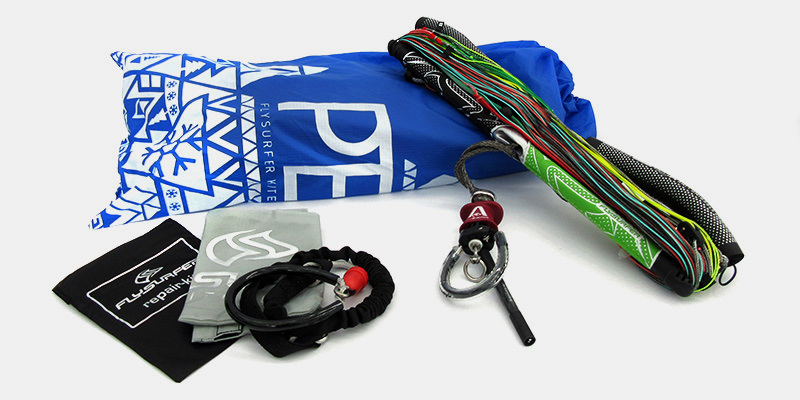 Ready-to-Fly package consists of:
"1x PEAK2 Kite "Ready-to-Fly"
1x Infinity 3.0 Light Bar setup incl. flying line set
1x Sandbag
1x Repair Kit (spare parts)
1x PEAK2 Gear Guide
1x PEAK2 Sleevebag"
| PEAK2 | 4.0 | 6.0 | 9.0 | 12.0 |
| --- | --- | --- | --- | --- |
| Color | red | yellow // yellow-aubergine | cyan // orange-aubergine | green |
| Area (projected) | 3.6 | 4.8 | 7.6 | 10 |
| Aspect Ratio | 4.2 | 4.2 | 4.2 | 4.2 |
| Cells | 11 | 11 | 11 | 11 |
| Line length (m) | 21 | 21 | 21 | 21 |
| Flat Wing Span (cm) | 418 | 452 | 599 | 688 |
| Weight Kite only (kg) | 0.88 | 1.17 | 1.45 | 1.72 |
| Weight ready-to-fly (kg) | 1.88 | 2.17 | 2.45 | 2.72 |
| Packing size HxLxW (cm) | 52x12x12 | 52x14x14 | 62x12x12 | 62x14x14 |
| PEAK2 | 4.0 | 6.0 | 9.0 | 12.0 |
| --- | --- | --- | --- | --- |
| Land (knots) | 4-25 (max. 28) | 3.5-18 (max. 20) | 3.5-16 (max. 18) | 3.5-14 (max. 16) |
The Wind Range Chart is to be used as a point of reference. It is based on a rider who weighs around 75kg (165lbs.) Actual use will vary depending on your weight, skill level, board size and the wind conditions on the water or land. When choosing a kite size, always use common sense and always choose a smaller size if you are not sure, especially when using the kite on land.
| Link | Language | Author | Release |
| --- | --- | --- | --- |
| Peak2 | EN | Kitefinder.com TV | 09/2016 |
| Peak2 | EN | J.H.N. Holgate | 01/2016 |
| Peak2 | EN | Extremekites.com | 12/2015 |
| Peak2 | EN | Windstruck @ Powerkiteforum.com | 10/2015 |
| Peak2 | EN | Stefarius @ Kitefinder.com | 07/2015 |
| Peak2 9 | DE | ewigkite.de / Carsten Hokema | 04/2015 |
| Peak2 9 | DE | ewigkite.de / Carsten Hokema | 04/2015 |
| Peak2 6 | DE | Kiting-Benny | 03/2015 |
| Peak2 9 | EN | Iksurfmag | 02/2015 |
| Peak2 | DE | boardway.org / Peter Goldbay | 01/2015 |
| Peak2 4 | EN | 4w7s @ powerkiteforum.com | 01/2015 |
| Peak2 9 | EN | Cliptorisque @ vimeo.com | 01/2015 |
| Peak2 12 | EN | Fernmanus @ kiteforum.com | 12/2014 |
| Peak2 | EN | Hardwater Kiting | 12/2014 |
| Peak2 12 | EN | First impression by Hardwater Kiting | 12/2014 |
| Peak2 6 | DE | Unboxing by Flugschule Westfalen / Udo | 12/2014 |
| Peak2 | DE | boardway.org / Peter Goldbach | 11/2014 |