The latest FLYSURFER innovation set to make history as the most advanced kite design for the new Olympic sport!
The FLYSURFER VMG is the world's first Two-Level foil kite with a supported profile technology approved as Formula Kite registered series production equipment. Kite designer Benni Boelli's masterpiece is built to be the fastest kite around a racecourse, its name reflects the aim: Velocity Made Good.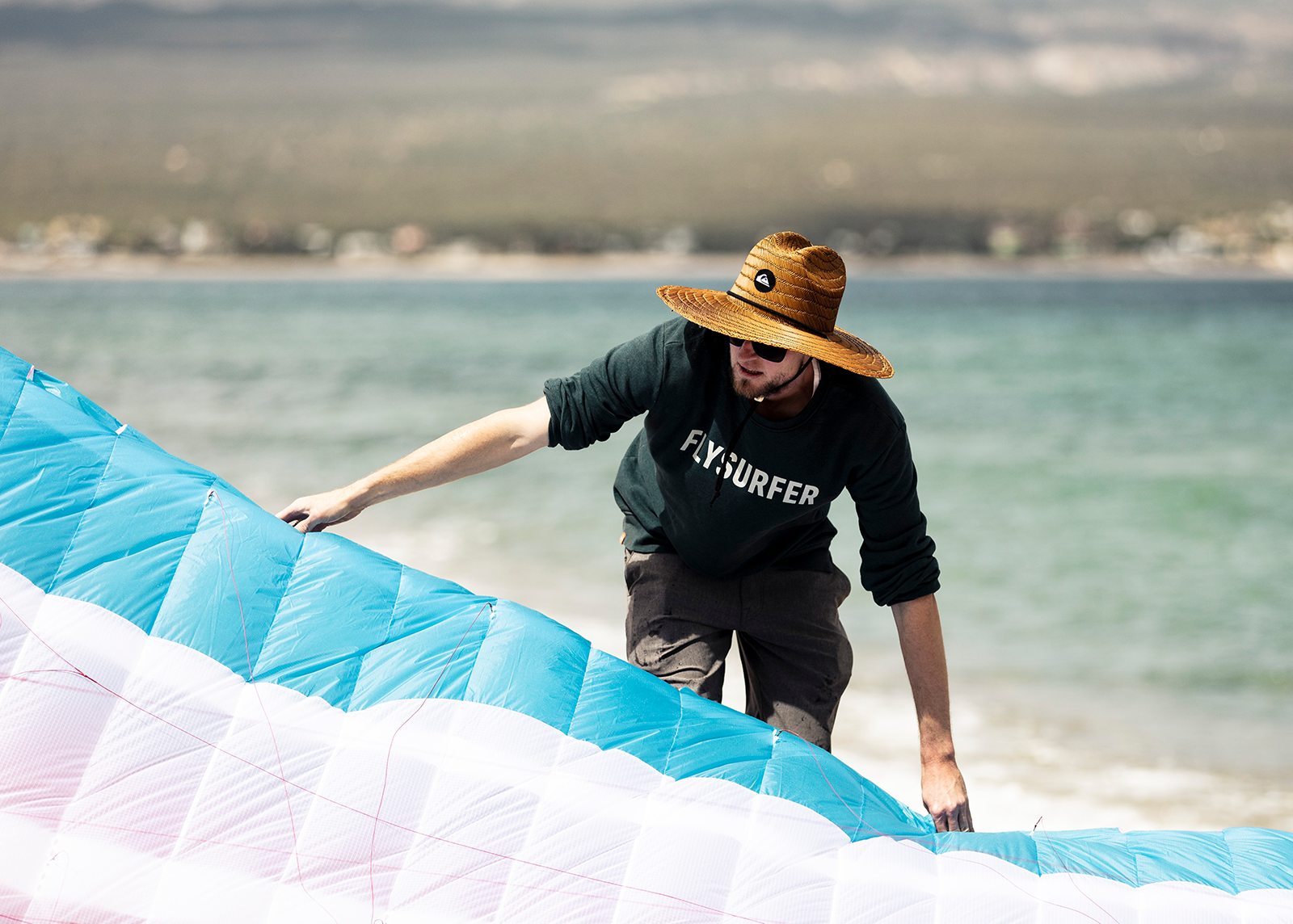 THE IDEA
The initial idea is to reduce the drag to a minimum by removing 49% of the lines in comparison to a common foil-kite design. The canopy is normally supported by three bridle levels and brake lines that are attached to the trailing edge. The complex bridle line system is controlled by several pulleys to change the profiles camber and angle of attack.
The VMG only changes the angle of attack and uses a constantly cambered profile supported by fiber glass rods to generate an efficient airfoil. The highly sophisticated internal construction enables the minimalistic system to work. This innovation is strategically supplementing our future kite designs to tailor them to our performance requirements.
The VMG has been tested and tuned by world class athletes Theo de Ramecourt, Nico Landauer and Florian Gruber in order to reach their dreams. Together we rely on the outstanding quality of the individual highly innovative components and the precise manufacturing process of the production.
After a successful factory inspection, the following items have been approved by the IKA Technical Committee as registered series production equipment for the IKA Formula Kite Class:
FLYSURFER VMG 23
FLYSURFER VMG 21
FLYSURFER VMG 18
FLYSURFER VMG 15
FLYSURFER VMG 13
FLYSURFER VMG 11
FLYSURFER VMG 10
FLYSURFER VMG 09
FLYSURFER VMG 08
Our foil kites will now be evaluated in competition until the end of 2021, when World Sailing will license the 2024 Olympic equipment through a separate agreement with the successful manufacturers.
For more information about the IKA Formula Kite class, the Olympic kiteboarding format, equipment and upcoming events, please visit https://www.formulakite.org/
FLYSURFER – AHEAD OF ITS TIME.
#VMG #velocitymadegood
#bornontheracecourse