At the ANOC World Beach Games 2019 it was the first time it felt like watching a real sport on television, kite-racing live on the Olympic Channel. We were super excited during the finals and insanely happy about the wins of our FLYSURFER athletes Daniela Moroz (USA) and Florian Gruber (GER) the first two Gold Medalists in foil-racing history!
We at FLYSURFER are super proud to sponsor such amazingly talented riders and be part of their big success! Florian Gruber was overwhelmed after his win:
"If someone would have told me before the ANOC World Beach Games that I take the Gold Medal back home, I wouldn't believe him. It's been a great season for me, I tried to enjoy that last big competition as much as possible. Because when you have fun, you do way better."
It was a totally new experience for Gruber and Moroz, the first time they traveled with the national team, wearing the cloth and representing their country on the big stage.
"Everything was bigger than at a normal kitesurf event. We have been together with so many athletes from different nations in one big hotel, an amazing experience. Luckily I had some free time and could watch some other athletes performing great in their sports."
The qualifying went very well for Florian and Daniela, both showed stellar performance and went straight into the final. Daniela went as the favorite into the women's final, but Florian had to take two wins against Nico Parlier (FRA), Guy Bridge (GBR) and Alexander Bachev (BUL), the pressure was on!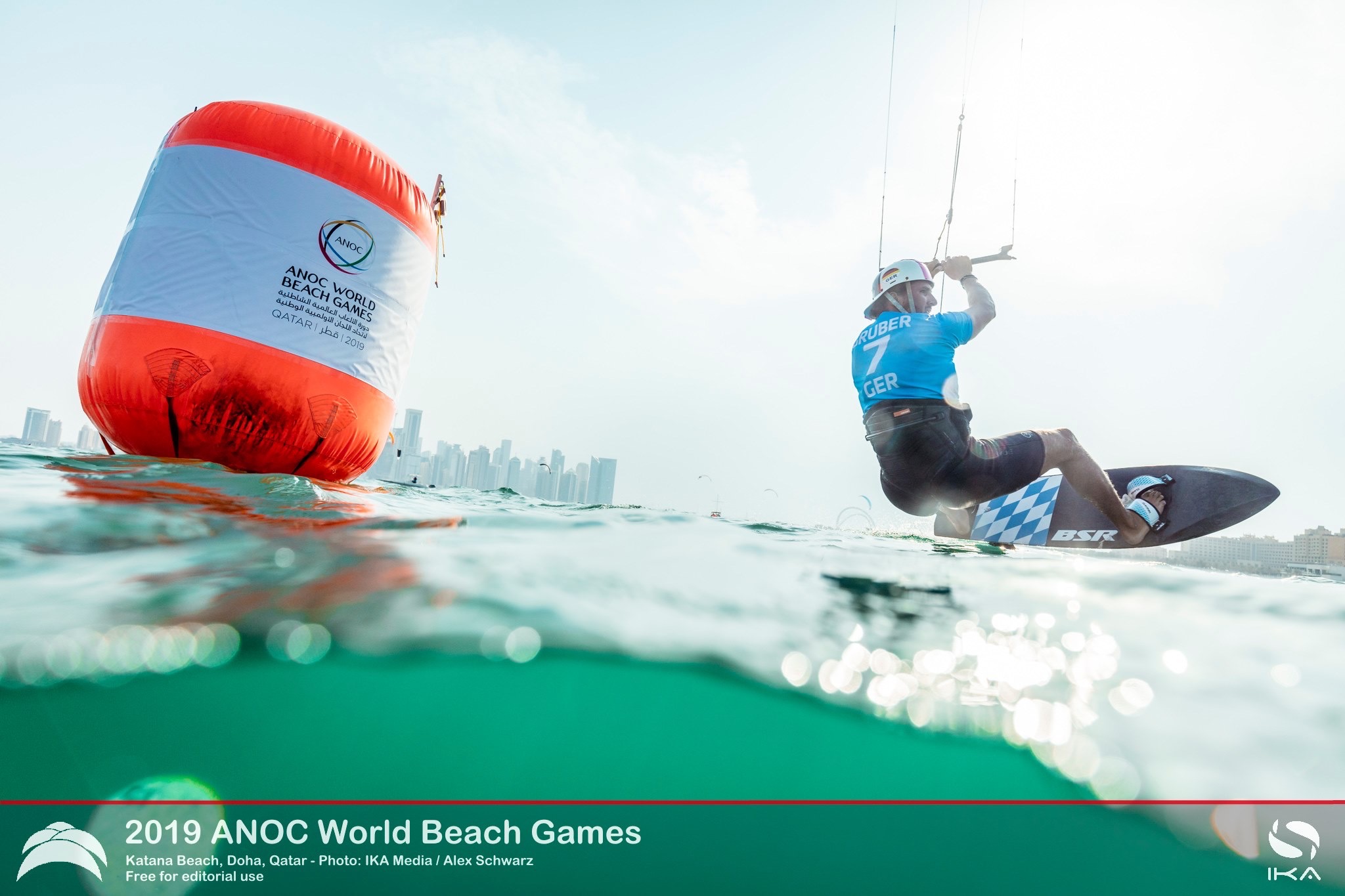 "On the final day, I felt very relaxed but didn't know that this day will end with a big win. After a slight delay from a protest in the semifinal, it was showtime. When I took the lead on the first downwind track, I knew, the first win is possible. Nico and Guy were close behind me, so I tried to stay focused and do a clean race. In this light wind conditions, it is hard to overtake, so it was on me to make no mistakes. Now I was on equal points with Nico, the next race's winner takes it all. First, it didn't look like a good start, but I had good speed and angle. I really like to have the inside of a racecourse, so I could control the race and get myself in a good position. With a close lead, I went into the 2nd round and Nico was on my heels. But then Nico didn't make the top mark. With that small mistake from him, I just had to bring this race home."
"It took a while till I really realized that win. It´s just an amazing feeling to be the first World Beach Games Winner in Kitesurfing." The "queen of racing" multiple World Champion, Daniela Moroz (USA) remained untouchable in the women's category.
She joined the FLYSURFER team two years ago and the 2019 season is her most successful so far, graduating from high school, getting a scholarship at the University of Hawaii and winning every major event this season. Daniela got also invited to challenge the United States SailGP Team in San Francisco Bay. She is balancing her time for studies, training, media exposure, finances and private life with international travel for kite races and public speaking, a true ambassador for the kite sport.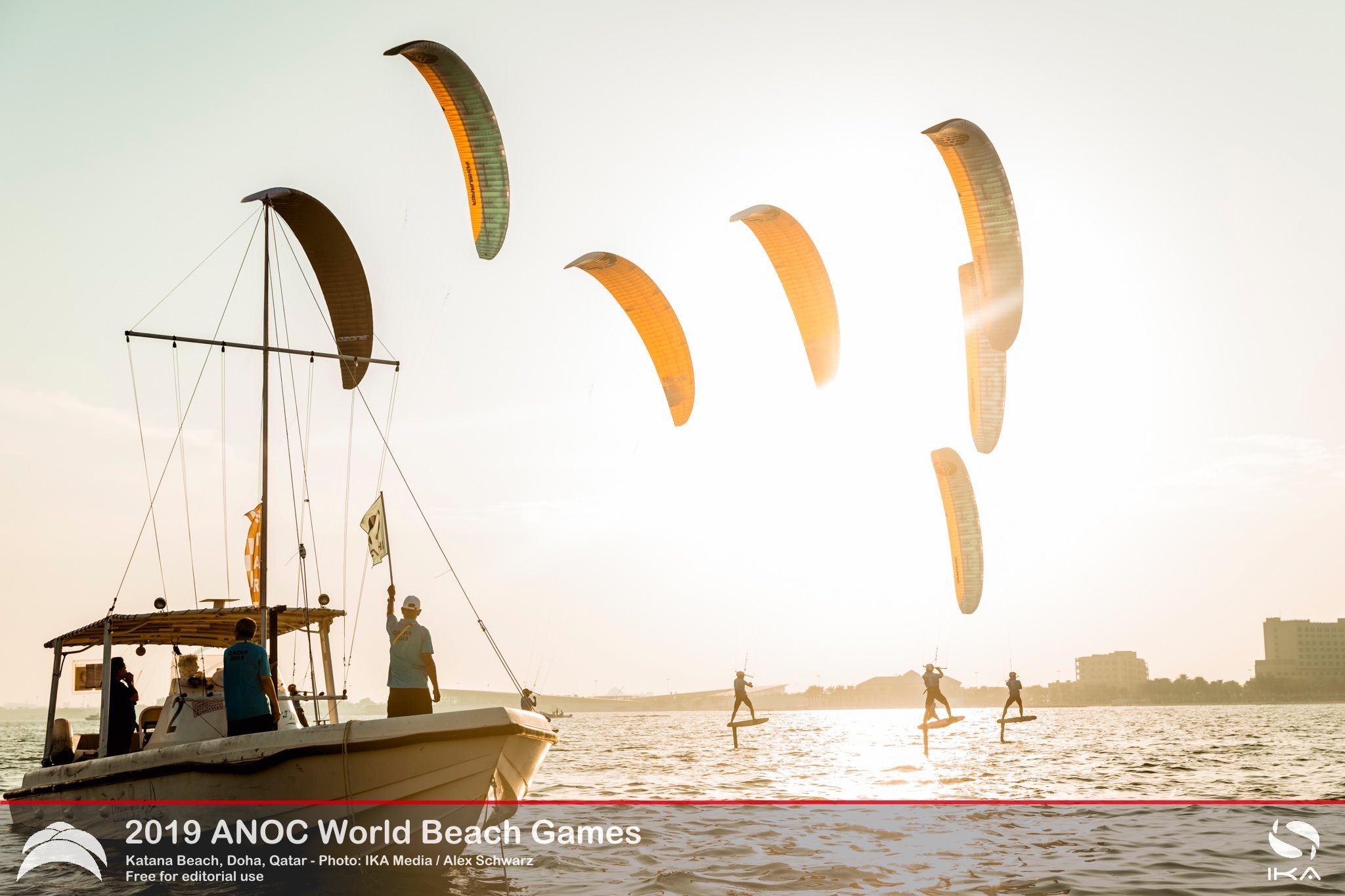 Back at home nobody could follow what was going on and then I realized there is a problem with broadcasting kite events. We as an observer or fan can choose and follow our favorite competition format and see how athletes are pushing the limits in kiteboarding. We are mainly watching on several online platforms during our work time and there is hardly any interaction going on, between us and the athletes. Everything feels very disconnected. Why do we have a hard time to be attracted or be emotional about kiteboarding competition?
The expression disciplines are super complex to understand, even if you are kiter and very difficult to watch because they are happening in the most remote destinations and with a huge time delay. That's the reason why we at FLYSURFER believe in a simple format like racing, with a starting line and a finish line, the first who crosses it, wins.
On top, every kiter who is able to go upwind is a potential racer, but only a few consider it. Because it's a physically exhausting sport, realistically, kiting is about fun, expression or relaxation. Competing in kite-racing needs fitness, time, the perfect equipment and a lot of self-motivation and drive. At the highest level, it's a mental sport, requires coaching and a team like in road cycling or skiing for example.
We'd like to give you an introduction and talk about the equipment. Let's start with the basics:
In kite foil course racing, there are up to 35 competitors in a "fleet" on the water trying to be the fastest around the "Olympic triangle".
You use a timer during the starting sequence (7-1min), which means you set a countdown of one minute and position yourself in the best way before the starting signal. You are not allowed to cross the imaginary starting line between a buoy and the committee boat until the green flag goes up; it's "go" time! The fleet goes windward to the top mark, followed by the 1st downwind track, then you need to pass the bottom mark and go upwind again. After the 2nd downwind track you reach over to the finish line. The distance of a race track varies between 1-4 nautical miles and is scheduled with target times of 10-15 minutes a race. In a classic regatta format, you sail a maximum of 6 races, approximately 100km a day.
There are also several long-distance races such as Red Bull Lighthouse to Leighton or the famous Red Bull Ragnarok. Starting into the 2020 season also team formats will be on the rise, probably to most prestigious one to date is the Varanger Arctic Kite Enduro, but the focus will be on the new "Olympic Team Relay" to fulfill the vision by the I.O.C:
"In addition to gender equality, the I.O.C.'s Agenda 2020 included initiatives for sustainability and universality, asking to increase their broadcast appeal with new formats and technology. Gender equality is a very positive effect on the kite sport and getting some of the sailing structure to make kiting more accessible will be key." Christoph Hesina
The equipment evolution over the past 3 years was insane. To date, we are piloting the most advanced technology in kiteboarding.
The FLYSURFER VMG and SONIC Race kites are designed to get our team or any individual to the top of the podiums and the Olympic gold medal in 2024. The highly advanced wings are full of technical details to improve their behavior in the most challenging weather conditions. All top athletes need to tune and tweak their equipment frequently to get the best VMG on the racecourse.
"You can't sail directly into the wind or with the wind, so you need to sail in angles. A good VMG will get you from the bottom to the top in the shortest possible time, covering the shortest possible distance at the fastest possible speed." Sail GP team NZL
What does it tell you about your gear and riding style? Know the advantage of your wings (foil/kite) and adapt your tactics and racing to it, because only the perfect balance between your body, gear, and mental fitness will win you Championships. This is what separates talented riders from champions.
On top of a full calendar, there are of course national tours or competitions to crown each nation's champion. In our point of view, there are too many events, the scouting for young talents is going to be hard and the most important question, whom do we sponsor on the road to Olympia 2024? What is important to us?
"The implementation of riders in our FLYSURFER research and development process is key to our success. The importance of athletes who want to push us to the limit is necessary for new inventions." Christoph Hesina
From a rider's perspective, it is very hard to maintain the focus, fitness and a good form over several months. You are going struggle with jet lags, nutrition, free time, relationships and of course, there are high expenses.
To give you one example from our race team members – Theo de Ramecourt (FRATD15) 2019 schedule, 14 big events worldwide:
It was no surprise to see a big group of very young and talented riders coming into the sport. In the youth category rising talent Maximilian Maeder (SGP) crowned himself as the World- and Asian Champion. One of them is Magdalena Woyciechowska (POL) who was winning her first IKA event this season and collected her first Vice-World and Vice-European Champion title.
FLYSURFER would like to thank the World Sailing, the IKA, the GKA and most importantly all riders, who are determining her life to the kite sport.