SPEED3
Freeride, Airstyle, Lightwind
At Flysurfer we call the SPEED3 the "ultimate flying machine." And for more than 2 years nothing about that has changed really. Whether it's the 21.0m in light winds from about 6 knots onwards, or the 12.0m in strong winds up to 25 knots – performance, stability, depower are still the measure of all things… Pure fun!
| | |
| --- | --- |
| TECHNOLOGY | Closed Cell Foil Kite |
| SKILLS | Advanced + |
| SIZES | 12 /15 / 19 / 21 |
| TERRAIN | |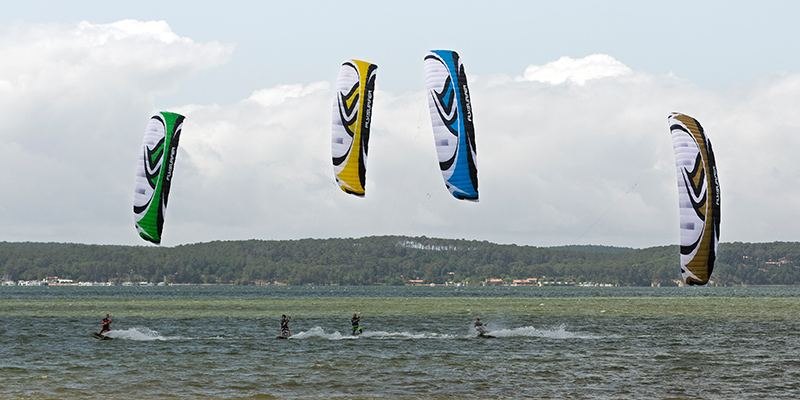 Colour coding for the first time in Deluxe Sizes
Up to now, the Speed3 has a gold/black/white color combination in the light Deluxe cloth, for sizes 12.0m/15.0m/19.0m and the "Silver Arrow" design (in white) for the 21.0m. Due to the demand and fashion trends towards more vibrant colours, we were able to produce more Deluxe cloth and use it for the first time in our Speed3 Coloured Edition. The colors grass-green DLX (12.0), yellow DLX (15.0), cyan-blue DLX (19.0) and gold DLX (21.0) makes it easier to identify a kite size on the spot and provide a much more colorful appearance with Flysurfer kites. The color coding in the standard cloth versions 12.0 (green)/15.0 (blue)/19.0 (red) remains the same.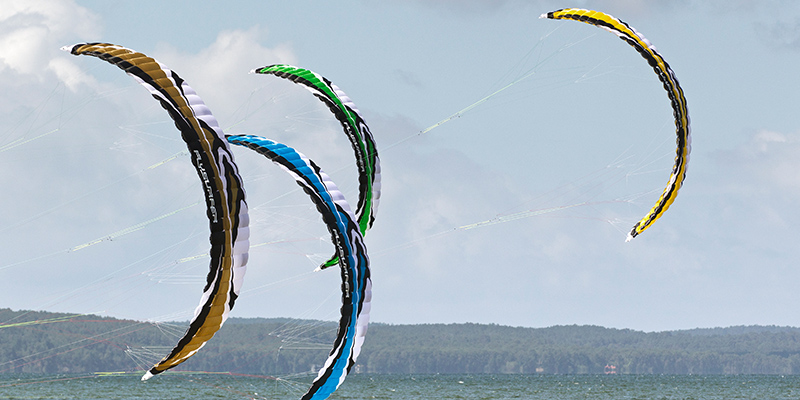 Hangtime
Whether you are a kiteboarder, snowkiter or kitelandboarder – all user groups appreciate the lift, the hang time, the incomparable feeling of flying and the butter soft landings with this kite. For old-school fans the Speed3 is a must-have. But especially freestylers can have their thrills with the 21.0m (light winds + flat water = more days of perfect kiting conditions) being able to learn many unhooked tricks easily and improve their level fast and significantly. Last but not least – the extreme upwind performance and the large depower-effect results in a huge wind range for each size, i.e a lot of passive safety, especially in gusty wind conditions, combined with light wind cruising joy and top results in the Kite Racing comps… a kite for "almost" everything!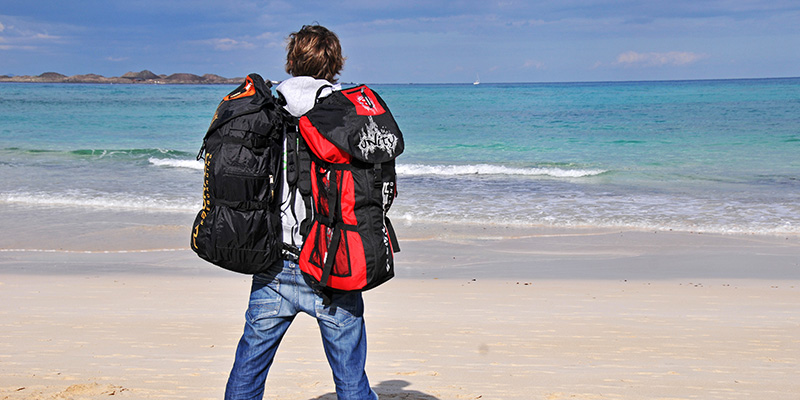 Adapted "CE" Kitebag
Functionally, tidy and in a timeless black and gold (deluxe) or black and silver (standard) colour combination. The new "CE" Speed3 Bag is the perfect packaging for this kite.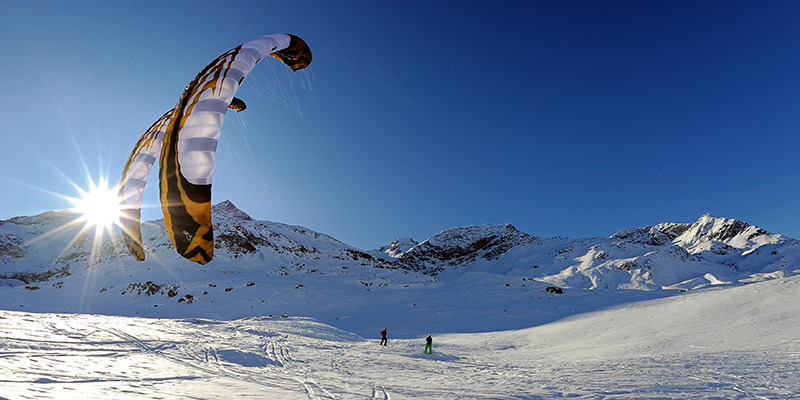 The Deluxe Cloth Features (compared to Standard-Cloth)
Flies in super low-wind conditions better turning & better catching after a kite-loop easy-to-use low-end performance in general easier to fly less prone to tip collapsing snowkiting and landkiting possible in the lightest breezes more stability lighter pack weight smaller packing dimensions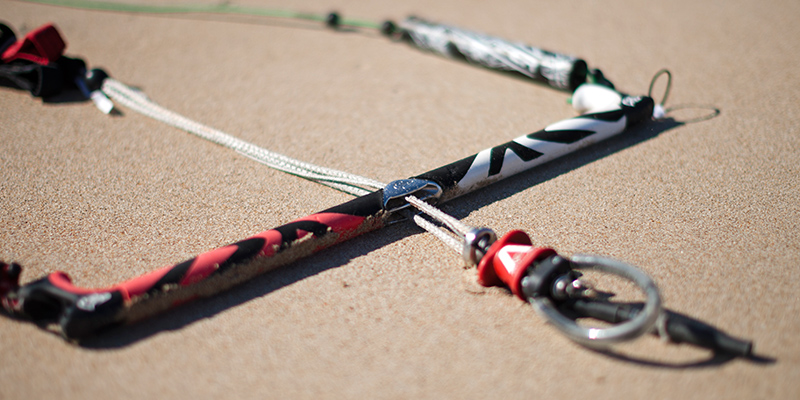 Infinity 2.0 Control Bar
Sophisticated and technically up to date, that applies to the Infinity 2.0 Control Bar. Many features – such as our in-house developed quick release, that meets the tight requirements of the French safety norm, a special bearing design, ensuring 100% un-spinning easiness, a V-shaped eyelet to allow for easy depowering while steering, a chicken-stick instead of a chicken-dick for added durability in the snow and many more – but please convince yourself! From now on integrated as the standard control bar on the Speed3 "CE" and Unity.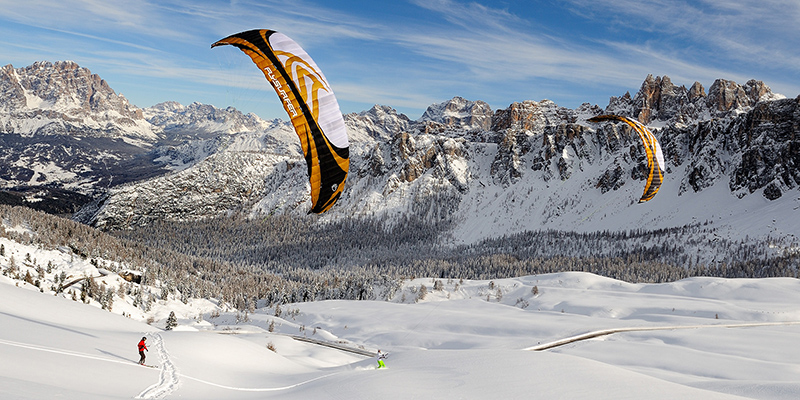 Handling
So, the Speed3 is no longer just a problem solver for light winds – a lot of enthusiastic Flysurfer fans swear by this product and their number is growing day by day. The handling – even with size 21.0m – whether male or female is easy and simple for everyone. Adjustable bar pressure allows for individual tuning to personal preference. The easy reverse launch the kite brings in no time back up from the water and into the sky. And with the integrated Infinity 2.0 Control Bar, this results in a harmonious and colorful performance package… Speed3 Coloured Edition – it's time to change!
SPEED3 … The Ultimate Flying Machine!
Whether you are into racing, old-school freestyle, big-airs or light-wind cruising, the Speed3 sets a new benchmark and redefines performance and fun in all wind conditions. The Speed3 is distinguished by its legendary and unrivaled light-wind performance. Depower within arms reach is very direct, easy and precise like no other kite in this class. Jumps have never been easier and lightwind kiting has never been that much fun with butter smooth landings and amazing hangtime… Stability, especially in strong or gusty winds, has grown to a level previously unknown in this kite class. The Triple Depower System gives the Speed3 its unbelievable wind range. Despite a high aspect ratio, the Speed3 flies like it's nailed to the sky and won't get unpredictable, even with more power. This provides additional safety, and helps with jumps. The safety function underwent a complete redesign, in order to cover the wider wind range. The tapered leading edge with four lines provides for excellent flagging-out of the Speed3 on the FLS Safety with an even better relaunch.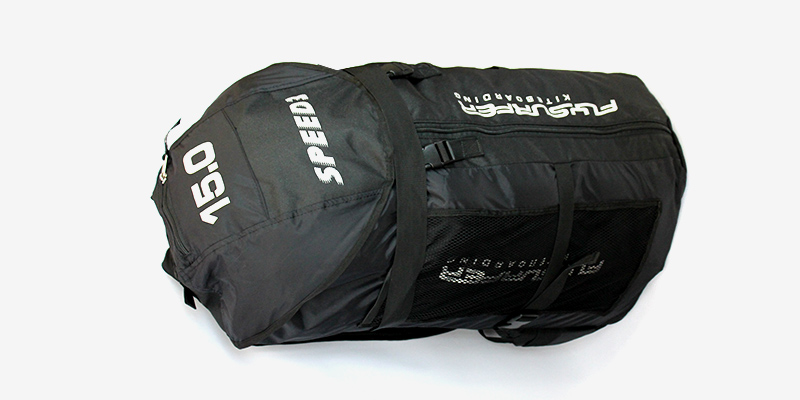 Package consists of:
1x SPEED3 Kite only
1x SPEED3 Kite Bag
1x SPEED3 Gear Guide
1x Sandbag
1x Repair Kit
| SPEED3 | 12.0 | 15.0 | 19.0 | 21.0 |
| --- | --- | --- | --- | --- |
| Color | green | dark blue / yellow | red / light blue | gold |
| Area (projected) | 10.2 | 12.8 | 16.2 | 17.9 |
| Aspect Ratio | 5.8 | 5.8 | 5.8 | 5.8 |
| Cells | 39 | 39 | 39 | 39 |
| Depth of the profile (cm) | 167 | 187 | 210 | 221 |
| Flat Wing Span (cm) | 831 | 929 | 1046 | 1100 |
| Weight = canopy + complete bridle + mixer (kg) | 2.7 | 3.2 | 4.0 | 4.4 |
| SPEED5 | 12.0 | 15.0 | 19.0 | 21.0 |
| --- | --- | --- | --- | --- |
| Zenit Parking (knots) | 6+ | 6+ | 6+ | 6+ |
| Water (knots) | 10-25 | 11-22 | 9-18 | 6-17 |
| Land / Hydrofoil (knots) | 9-22 | 8-18 | 6-15 | 5-12 |
The Wind Range Chart is to be used as a point of reference. It is based on a rider who weighs around 75kg (165lbs.) Actual use will vary depending on your weight, skill level, board size and the wind conditions on the water or land. When choosing a kite size, always use common sense and always choose a smaller size if you are not sure, especially when using the kite on land.