RADICAL5
Freestyle, Freeride
The RADICAL5 is the performance crossover kiteboard line by Flysurfer for freeride, freestyle and wakestyle. Experience their new riding sensation, with reworked rocker curve and flex, allowing maximum control, more grip, less spray and explosive pop as result. Performance on demand!
| | |
| --- | --- |
| TECHNOLOGY | Twintip |
| SKILLS | Intermediate + |
| SIZES | 127x36 / 132x39,5 / 134x40 / 138x42 / 144x46 |
// OPTIMIZED ROCKER & FLEX
// CLICK'N'RIDE FIN SYSTEM
"ENJOY TRUE FREERIDE PERFORMANCE, AND NO LIMITS WHILE PUSHING YOUR NEW TRICKS!"
Andreas Hanrieder, Aerospace Engineer Dipl.-Ing.

WOOD-FOAM CORE
All RADICAL5's have a hybrid core, achieving perfect harmony of board weight, performance and durability. A foam core is used on the toe-side in the longitudinal direction, providing a significant reduction in board weight. In the heel-side that is under more force and load, a robust wood core is used. Guaranteeing dynamic recovery force of the board, while retaining huge amounts of strength.

TORSION FIBRE LAYERS
The innovative assembly of a unidirectional woven layer lengthwise and an additional woven layer (torsion layer) at a 45-degree-angle achieves considerably higher torsion stiffness, which is reflected in increased jumping performance while remaining great comfort.

IMPROVED ROCKER
The new rocker curve provides smooth riding even in the toughest conditions, and gives more control in fast landings, after kiteloops or unhooked moves. The central part of the rockerline remains flat, retaining very early gliding and effortless upwind performance.

HEELSIDE CHANNEL
The deep heel-side channel provides good grip, and makes it possible to set your edge more effectively before jumping.

TUCKED UNDER EDGE RAILS
The RADICAL5 board edge has been cut off at a 45-degree-angle, the same as how surfboards have been manufactured traditionally. This makes the board very controllable, even in choppy conditions and reduces spray.

ADDITIONAL GRABRAILS
The additional grabrails are very soft, but still offer the best control for board-offs and one-footers. Thus, holding the board in the air has become easier then ever. The grabrails can easily be glued to the deck.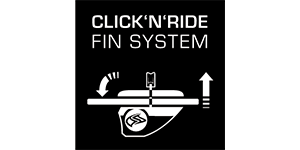 CLICK'N'RIDE FIN SYSTEM
This innovative quick release fin system allows for fin disassembly in seconds. Whether for traveling or just to protect your car and other equipment during transport, this system will make your kite life easier.

SCRATCHPROOF TOPSHEET
All of our boards have a special high-quality UV and scratch-resistant coating, thus offering a long product life. The graphic design is protected under the coating, so that it does not get damaged if the board is slightly scratched.

ERGONOMIC TOESIDE
The asymmetrical rounder and shorter toe-side outline, increases control when riding toe-side and provides increased maneuverability while carving.
RADICAL5 … performance on demand!
Performance on demand by Flysurfer Kiteboarding with this crossover freestyle twintip, we present you the Radical5. We were able to create a new riding experience thanks to an optimized rocker curve, a stiffer midsection and improved flex. This gives even more control and grip, better pop and less spray while riding. Our proven combination of wood and foam for the core of the board makes the RADICAL5 a very lightweight, durable and dynamic board. Whether you are into airstyle or wakestyle the RADICAL5 simply does not disappoint. The increased rocker allows for more powerful landings, while the stiffer mid-section enables easier and bigger take-offs when trying your latest freestyle tricks. The improved flex pattern still lets you go as big as you want, retaining maximum control while overpowered. Enhanced overall performance featuring a heel-side channel, tucked-under edges, ergonomic outline and the new Click n Ride fin system, makes traveling easier then ever before with this board. Cut no corners and get yours now!
Space'n'Galaxy Pad-Strap-Combo
The new and improved Space Pads, with more grip and very good damping characteristics for soft landing combined with our high grade Galaxy Straps, which allow for a perfect fit and hold, round off the RADICAL5 package. These straps can be adjusted on both sides and can be used from shoe size EU 39 (barefoot) to about size EU 48 (with neoprene shoes).
| Radical5 | 127x36 | 132x39,5 | 134x40 | 138x42 | 144x46 |
| --- | --- | --- | --- | --- | --- |
| Color | orange | cyan | cyan | cyan | orange |
| Length (cm) | 127 | 132 | 134 | 138 | 144 |
| Width (cm) | 36 | 39,5 | 40 | 42 | 46 |
| Weight (kg) | 2.15 | 2.50 | 2.55 | 2.65 | 3.25 |
| Stance width (cm) | 50.4 - 56.2 - 61.2 | 50.4 - 56.2 - 61.2 | 50.4 - 56.2 - 61.2 | 50.4 - 56.2 - 61.2 | 50.4 - 56.2 - 61.2 |
| Core Material | Wood-Foam Core | Wood-Foam Core | Wood-Foam Core | Wood-Foam Core | Wood-Foam Core |
| Fins | 4x 5cm G10 Click'n'Ride | 4x 5cm G10 Click'n'Ride | 4x 5cm G10 Click'n'Ride | 4x 5cm G10 Click'n'Ride | 4x 5cm G10 Click'n'Ride |
| Radical5 | 127x36 | 132x39,5 | 134x40 | 138x42 | 144x46 |
| --- | --- | --- | --- | --- | --- |
| Package | € 649,- | € 649,- | € 649,- | € 649,- | € 649,- |
All prices in EUR (incl. 19% VAT.)
Made in EU
Since we manufacture our boards within Europe we can guarantee the highest precision and quality, and ensure that only the best materials are used in their construction.