PEAK3
Touring, Freeride, School
Go vertical! The PEAK3 features everything a passionate freerider's heart could possibly desire – a highly-efficient and durable Single-Skin concept, simple set up, and easy to fly. Plus it offers power on demand with superb safety. Designed for universal use, it sets the standard for a touring kite. Adventure awaits you.
| | |
| --- | --- |
| TECHNOLOGY | Single-Skin Foil Kite |
| SKILLS | Beginner + |
| SIZES | 4 / 6 / 9 / 12 |
| TERRAIN | |
// ULTRALIGHT SINGLE-SKIN CONCEPT
// REEF LINE SAFETY SYSTEM
"The PEAK3 is the perfect kite for your adventures on land and snow."
Benni Bölli, FLYSURFER R&D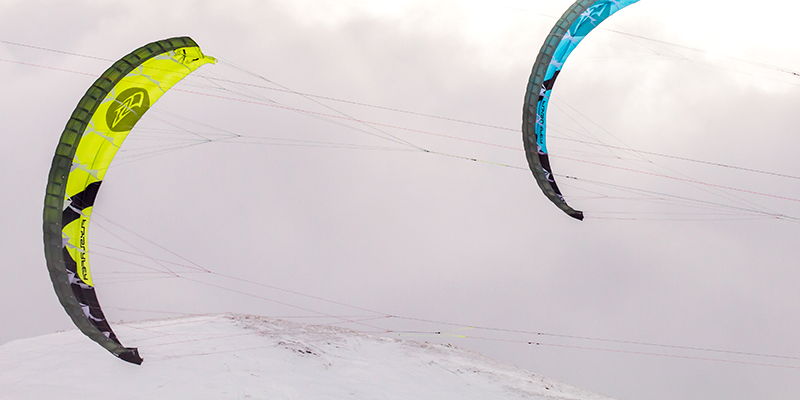 Single-Skin Concept
The PEAK3 is a foil kite which only needs one top sail to form the wing. This Single-Skin concept draws in kiters with its unique characteristics and ratio of performance per square meter. The high efficiency remains controllable thanks to the PEAK3's progressive depower and stability. The kite benefits from the wing's lack of inertia, has far less tendency to overshoot and its reduced weight means it behaves well in gusty wind. When it comes to kiting in the low-end wind range, the PEAK3 definitely sets the standard.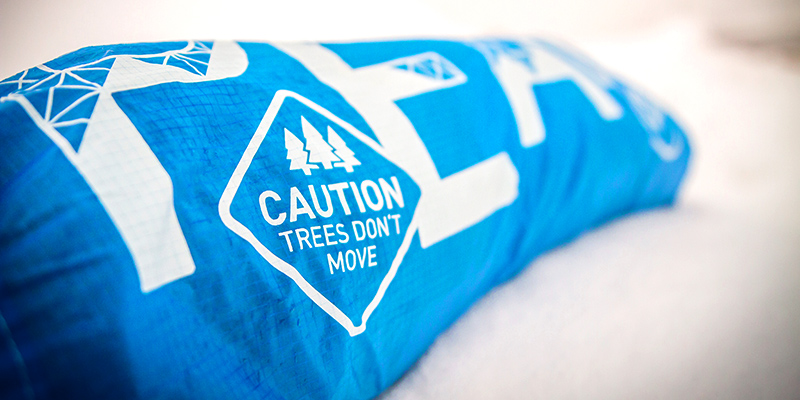 Minimal Pack Size
The PEAK3 is built for traveling, trekking and touring. Its Single-Skin concept meets the requirements for snowkiting and landkiting better than any other kite. Take advantage of its featherlight weight and super-small pack sizes. The PEAK3 provides highest safety in the most dangerous situations, supported by the Reef Line Safety and an immediate loss of power, if needed, at any time.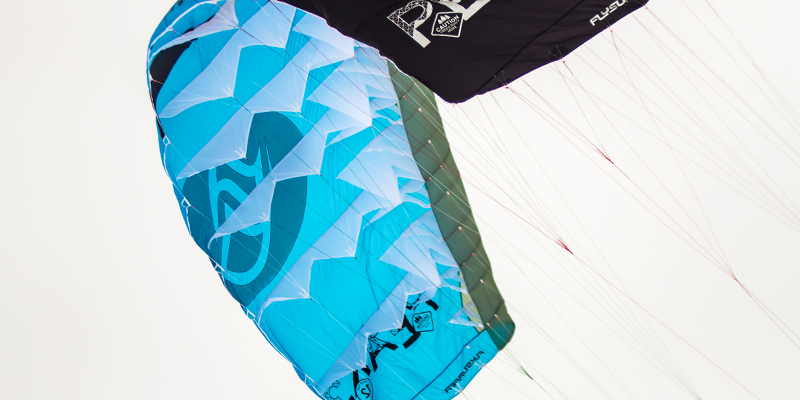 High-Quality and Durable
The PEAK3's durability remains true to the FLYSURFER Kiteboarding philosophy. We build extensively-tested products with functional and rugged components. New reinforcements are targeted at specific high-stress areas such as at the leading edge. We are proud to further improve our product quality.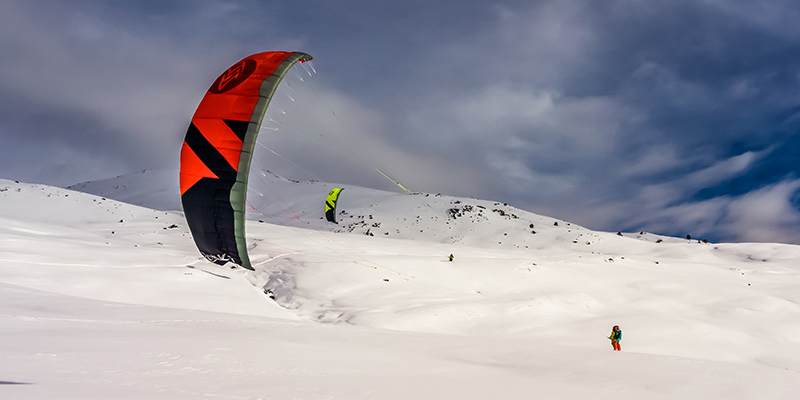 Unmatched Low-End
Can you fly a kite with nearly no wind? You can with the PEAK3! The kite provides incredible stability and control in the lightest winds. With a 30% reduction of the bridle lines, the PEAK3 produces less drag, letting it achieve its unique low-end. You can even have fun in 3 – 8 knot winds!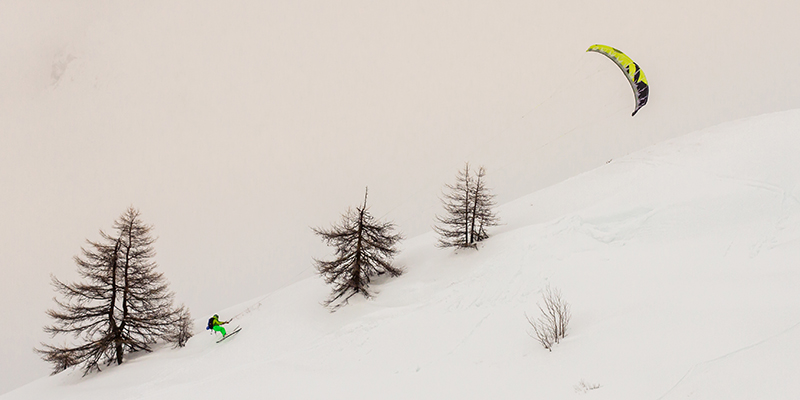 Universal Application
As easy to fly as an entry-level school kite but designed for high-adrenaline adventures. Whether it's on land or snow, with a kite landboard or a buggy, skis or snowboards, for freeride or teaching purposes, adults or children, beginners or advanced, for urban street kiting or as a traveling companion; the PEAK3 is your ultimate weapon for your daily session.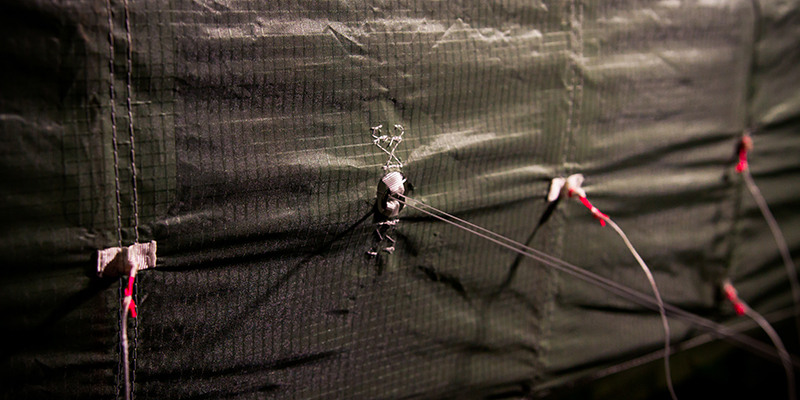 Reef Line Safety
The unique, patented Reef Line Safety of the PEAK3 ensures maximum security and all but guarantees the easy reactivation of the kite. The advantage of the Reef Line, compared to a single frontline safety system, is an immediate contraction of the kite's wing span. This results in a controlled, powerless crash of the kite. In light winds it may occur that some lines fold over a wingtip. The Reef Line Safety is an additional red-colored line included in every PEAK3 package. Please follow the assembly instructions carefully.
PEAK3 … adventure awaits!
The PEAK3 tackles all terrain with ease, and does not compromise on performance, agility or safety, whilst remaining simple to use. Experience the light handling and cranking power of a Single-Skin kite.
Access the world of kiting in just a few seconds! Since no pre-inflation or pumping is needed, you are always ready to go. Its unmatched low-end power will take you wherever you want to go, even in the slightest breeze; and thanks to its effective depower, you'll be safe and in control, even in stronger winds. The PEAK3 ensures maximum security, reinforced by the new Reef Line Safety. Reverse launches, backstall landings, or simply dropping the kite at the edge of the wind window, the PEAK3 does it all, giving you multiple ways out of dangerous situations, or for times when you just need a break. The PEAK3 is ideally suited for backcountry touring, freeride snowkiting, street kiting, kite landboarding or buggying, and is a must-have in every kite school. Once you try it, it will quickly become your go-to kite. Choose your preferred size from the new PEAK3 line-up – 12.0m, 9.0m, 6.0m or 4.0m. The ultimate toy whether on snow, sand, grass or asphalt. Adventure awaits you…
Touring Bag with integrated Kite Harness
A small, 25-liter pack volume, comfortable foam shoulder-straps, durable construction, an integrated kite harness, and space for your daily essentials rounds off our lightweight trekking backpack. This saves the need to bring a standard bulky and heavy harness along with you when going out on expeditions or freeriding. Please note that the Touring Bag is not intended to replace your kite harness for high-strain use, and we highly recommend that you avoid jumping and flying with the FLYSURFER Kiteboarding Touring Bag.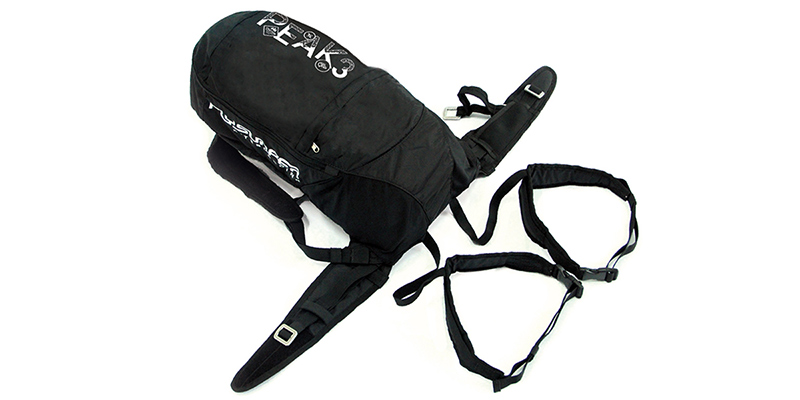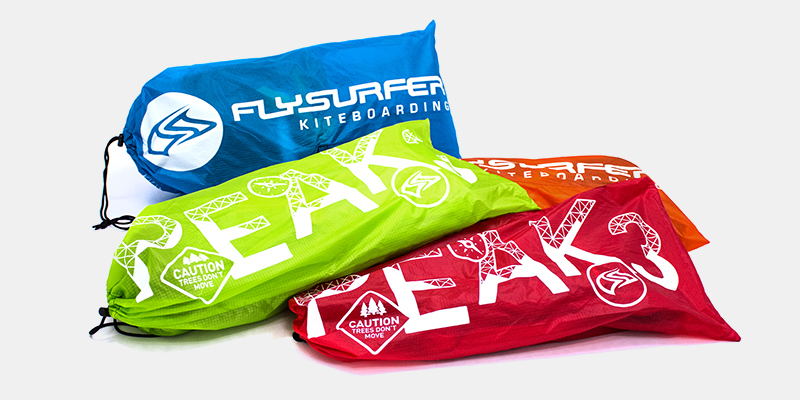 Total package consists of:
1x PEAK3 Kite only
1x PEAK3 Gear Guide
1x Reef Line Safety Kit (incl. assembly instructions)
1x Sandbag
1x Repair Kit (spare parts)
1x PEAK3 Bag
| PEAK3 | 4.0 | 6.0 | 9.0 | 12.0 |
| --- | --- | --- | --- | --- |
| Color | red | orange | lime | cyan |
| Area (projected) | 3.1 | 4.8 | 7.6 | 10.0 |
| Aspect Ratio | 4.2 | 4.2 | 4.2 | 4.2 |
| Cells | 11 | 11 | 11 | 11 |
| Line length (m) | 21 | 21 | 21 | 21 |
| Flat Wing Span (cm) | 414 | 507 | 599 | 678 |
| Weight Kite only (kg) | 0.88 | 1.10 | 1.40 | 1.68 |
| Packing size HxLxW (cm) | 52x12x12 | 52x13x13 | 52x14x14 | 52x15x15 |
| Recommended barsize | 50 | 50 | 50 | 60 |
| PEAK3 | 4.0 | 6.0 | 9.0 | 12.0 |
| --- | --- | --- | --- | --- |
| Land (knots) | 5-27 (max. 30) | 3-18 (max. 20) | 3-16 (max. 18) | 3-14 (max. 16) |
The Wind Range Chart is meant to be used as a point of reference. It is based on a rider who weighs approximately 75kg (165lbs.) The appropriate kite size to use will vary depending on your weight, skill level, board size and the wind conditions on the water or land. When choosing a kite size, always use common sense and always opt for a smaller size if you are not sure, especially when using the kite on land.