The sports world is still suffering under the pandemic leading to cancelation of events since April 2020. On top of that, IKA technical committee had to postpone approvals of serial production equipment, forcing competitors, constructors, and nations to train and evaluate gear behind closed doors. The excitement and tension before this year's European Championship have never been more intense.
"This is especially a test of new equipment. All the top guys are racing on equipment that was only approved a few weeks ago due to the COVID-19 delays" – said Markus Schwendtner, Secretary General of the International Kiteboarding Association (IKA).
The contest at Puck in Poland is the first opportunity since August 10, the day after the Tokyo 2020 Games were due to end, for the new registered series production kites and hydrofoils to compete in a Formula Kite regatta. After five years of development by our designers and athletes, we were eagerly anticipating the first major clash with the other constructors, acutely aware that we will be unable to change the design for the upcoming four years of Formula Kite competitions leading to the introduction of kitesurfing at the Olympics.
"But already market leaders Ozone and Flysurfer have thrown down the gauntlet. Their new kites reflect two divergent philosophies: Flysurfer's VMG2 is hailed as revolutionary, while Ozone's dominant R1 in its V4 iteration is cast as evolutionary, refining R1's pace and ease-of-use all around the course that won it legions of followers and countless titles." Statement by formulakite.org
The International Kiteboarding Association chose a Baltic Sea spot during summertime as the proving ground while being aware that seaweed and shifting winds would be the x-factor to spice things up. A very controversial decision in regard to safety as crashes can't be avoided and gear will break, affecting possibly the confidence of many riders. But still, after registration day, we saw a strong female and male participation with a total of 96 competitors from X countries.
Let's take a look at the Equipment List and see the ranking and what the top riders chose for the regatta.
Interestingly the majority of the ladies chose a Mikes Lab – Bullet 3LC 2017 as their hydrofoil and the Ozone R1 V3, and didn't have the latest racing equipment yet. Only four female competitors had the new registered gear (1 on the Ozone R1V4 and 3 on the FLYSURFER VMG2)
Here is what the top female riders used:
Julia – Mikes Lab Bullet 3LC 2017 – Ozone R1V4 19, 15, 11, 9

Ellie – Flying Sardine Haze 2020 – Ozone R1V3 19, 15, 11, 9

Magda – Mikes Lab Bullet 3LC 2017 – Flysurfer VMG2 18, 15, 11, 9

Leonie – Levitaz R5 2020 – Flysurfer VMG2 21, 15, 11, 8

Katie – Mikes Lab Bullet 3LC 2017 – Ozone R1V3 19, 15, 11, 9

Alexia – Levitaz R5 2020 – Ozone R1V3 19, 15, 11, 9

Nina – Mikes Lab Bullet 3LC 2017 – Ozone R1V3 19, 15, 11, 8

Gisela – Flying Sardine Haze 2020 – Flysurfer VMG2 21, 15, 11, 9

Poema – Levitaz R5 2020 – F-One DiabloV5 21, 15, 11, 9

Alina – Moses W-670 – Ozone R1V3 19, 15, 11, 9

Maddy – Levitaz R5 2020 – Ozone R1V3 19, 15, 11, 9

Lauriane – Levitaz R5 2020 – Flymaax BoomV2 21, 15, 11, 9

Jemima – Mikes Lab Bullet 3LC 2017 – Ozone R1V3 19, 15, 11, 9

Mathilde – Levitaz R5 2020 – F-One Diablo 2018 18, 9, F-One DiabloV5 15, 11
The men's fleet looks even more mixed up than the ladies. Take a look at the top riders' gear choice (on the top 14 list the gear is R1V4: 5 riders/ FLYSURFER VMG2: 5 riders/ Flymaax V2/ Diablo V5: 2 riders):
Axel – Chubanga V2 2020 – Ozone R1V4 19, 15, 11, 9
Maxime – Levitaz R5 2020 – Flymaax BoomV2 21, 15, 11, 9
Connor – Levitaz R5 2020 – F-One DiabloV5 25, 15, 11, 9
Nico – Chubanga V2 2020 – Ozone R1V4 19, 15, 11, 9
Toni – Levitaz R5 2020 – Ozone R1V4 21, 15, 11, 9
Maximilian – Levitaz R5 2020 – Flysurfer VMG2 21, 15, 11
Florian – Levitaz R5 2020 – Flysurfer VMG2 23, 15, 11, 9
Martin – Levitaz R5 2020 – Flysurfer VMG2 21, 15, 11, 9
Theo – Levitaz R5 2020 – Flysurfer VMG2 21, 15, 11, 9
Denis – Flying Sardine Flow 2020 – Ozone R1V3 21, 15, 11, 9
Jannis – Levitaz R5 2020 – Flysurfer VMG2 21, 15, 11, 9
Alexander – Flying Sardine Haze 2020 – Ozone R1V4 21, 15, 11, 9
Maks – Moses W-670 – Ozone R1V4 21, 15, 9
Benoit – Chubanga V2 2020 – F-One DiabloV5 25, 15, 11, 9
The biggest question was: can someone challenge defending European Champion Axel Mazella (FRA) who has been outstandingly consistent in every competition he entered.
On the female side, with the absence of Daniela Moroz (USA) and Kirsten Obrien (USA) who are skipping the racing season due to USA travel restrictions with the COVID-19 pandemic, all eyes were set on title defender Ellie Aldridge (GBR) and her first challenger Julia Damasiewicz (POL).
After a successful pre-season and the rumors that our VMG2 is the fastest kite on the racecourse, the pressure was on for the FLYSURFER athletes to come up on top and crown themselves in their category as European Champion.
Theo de Ramecourt (FRA): The Frenchman currently ranked 1st place in the Formula Kite Class world ladder of 2019, has yet to prove his insane speed and win a major title, which he deserves for himself.
Martin Dolenc (CRO): After competing in the Youth Olympic Games in 2018, the Croatian established his top 10 spot in the strongest fleets to date and is ready for the next step.
Mario Calbucci (ITA): Determined to succeed and surprise his rivals with his speed, Mario's goal is a top 5 spot. The fastest Italian will be a force to be reckoned with.
Leonie Meyer (GER): The German's sailing background can play a big role in tricky conditions and paired with her great upwind skills, she is expected to be among the top riders.
Sofia Tomasoni (ITA): The Youth Olympic Games champion of 2018 is on her way to finally transition from her slalom career to become a title contender on the hydrofoil.
Florian Gruber (GER): Last year's ANOC World Beach Games winner and multiple world champion is ready than ever before to take home another trophy.
Maximilian Maeder (SIN): The talent from the east is the rising star in the scene and ready to bring the heath to his European U17/U19 competitors.
Jannis Maus (GER): Taking every chance to improve during lockdown and establishing a great training ground together with the Dutch Federation, Jannis has high expectations.
Magdalena Woychiechowska (POL): We describe her very humble and skilled. Yet Madga is fighting every week with her Polish team mates in one of the most competitive national leagues and ready to show off.
Gisela Pulido (ESP): The multiple freestyle world champion dedicated her life to win an Olympic medal in 2024 and wants to prove herself in the first major event.
Long track target time: 10-12 min
Short track target time: 5-6 min
Qualification series: competitors are split into fleets depending on the number of participants and their overall ranking is used for the seeding. Long track: 8 races 2 discards
Gold fleet series: Half of the fleet advances to the gold fleet. The top two competitors advance directly to the medal race with two victory points for the winner and one for the second-place finisher. Long track: 8 races 2 discards
Final series: Twelve competitors (position 3-14) are divided into two semi-finals and take 1 to 6 points into the two decider races. The first of each semi-final advances to the medal race. Short track: 2 races 0 discards
Medal race: The winner takes it all. The competitor who scores three victory points wins the competition. Short track: 1-6 races 0 discards
A controversial format from a rider's perspective: "The format feels really weird. I think it's not fair to put « everything to 0 » on the final day. I don't think this format rewards the investments of the riders who train hard consistently during the year. I know it's the same format for everyone but I think we are evolving in really unstable environment and our final results shouldn't be based on 2 races. I don't think it's fair that you can lose 6 places in one day by only missing out on one race."
Qualification series men – Qualification series women
Day 1:
In steady 10-12 knots, we saw the competitors not only fight with their closest opponents but also with seaweed that had swept into the bay by easterly winds. Unfortunately, Flysurfer team member Leonie Meyer cut her foot after a gnarly crash, but still finished the day with her injury. Nonetheless, the qualification series went amazingly well for our riders on their 21 & 23 m² VMG2's. Theo and Magdalena put themselves into very good positions sitting at the top of the rankings after 4 races. Florian Gruber had a great start into the week scoring one bullet (1ST place) and ending up with an exceptionally good third place.
Day 2:
Competitors only got the rear view of France's Axel Mazella who scored 4 straight bullets on the second day of the qualifying series. Only Theo was able to be on Axel's heels, despite having a mixed day, scoring an UFD due to an early start in the last race. Theo now sits two points behind at eight points. Florian also showed great consistency with three third places, ending the day on position six.
In the women's fleet, youths Magdalena Woyciechowska and Julia Damasiewicz continued their domination from day one and are on a straight course to qualify directly for the Medal Series on Sunday. Our young polish team member was penalized after a protest by the Technical Committee but was still able to maintain her second place. Many competitors who chose a Mikes Lab Bullet 3 hydrofoil setup got a 1.3 points penalty per race for not fulfilling the required measurements. Leonie Meyer who patched herself up after her injury, moved up to third place with several consistent top places, winning the last race of the day. Gisela Pulido progressed towards the end of the day and is starting to feel more confident in a big fleet of riders.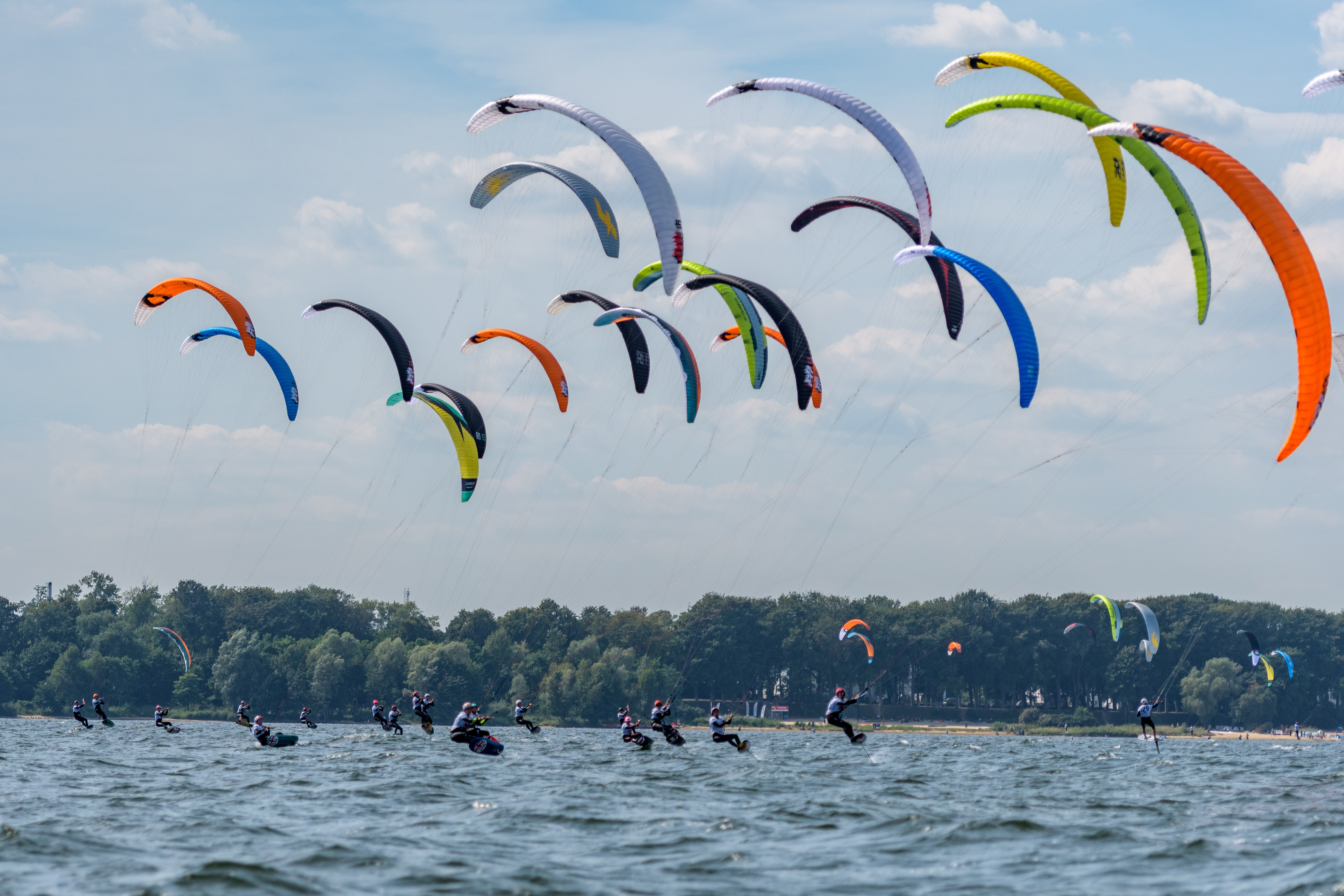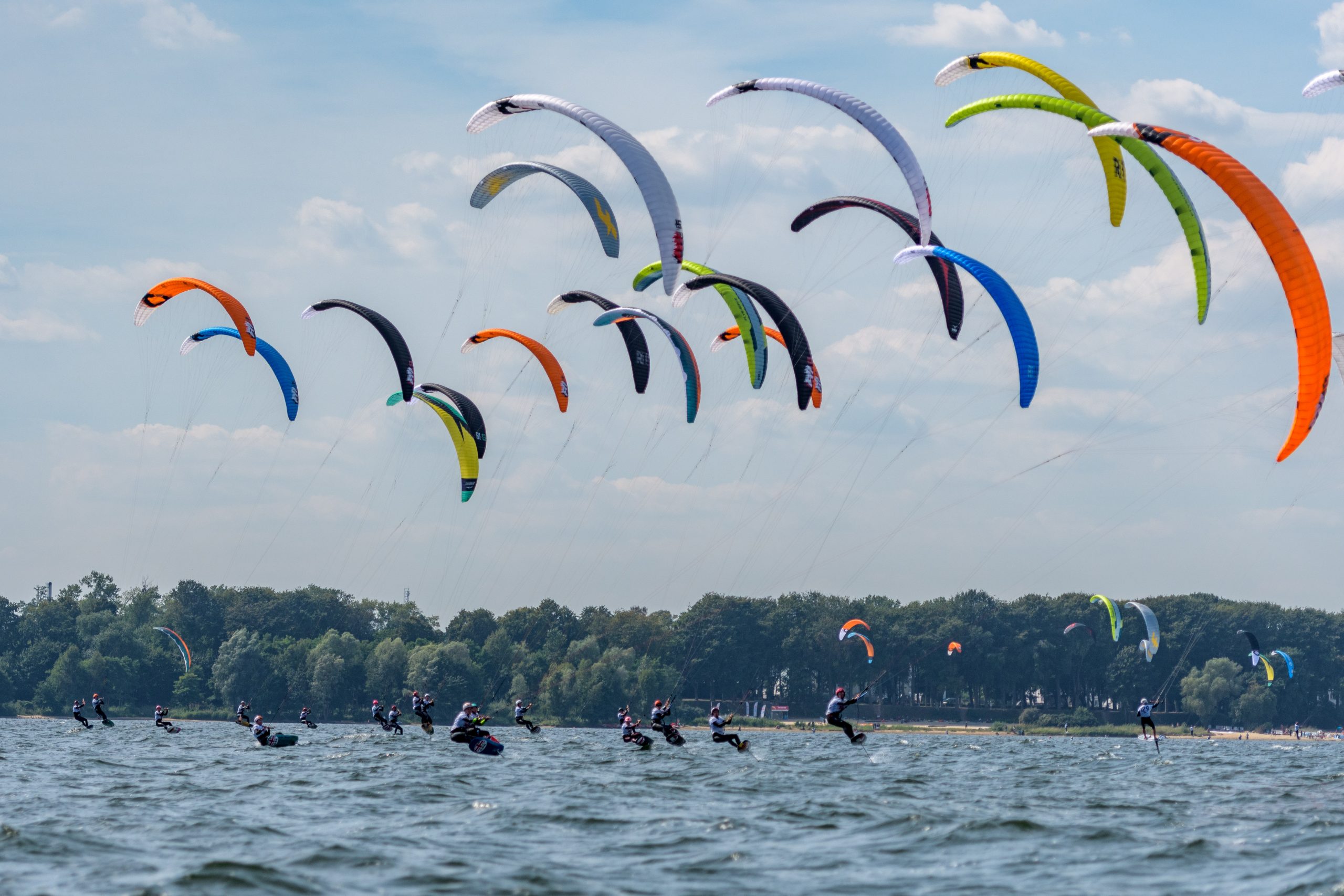 Following two days of competition, the men's event was split into two fleets, with the top 33 athletes contesting on the Gold Fleet.
Axel Mazella continued his impressive run, triumphing in all four races (plus two carry forward scores) to top the leaderboard with six points. Theo de Ramecourt started again with some mixed results but came back stronger after the lunch break. He lost his second place to fellow Frenchmen Maxime Nocher.
Four races were completed in the women's contest, with Julia Damasiewicz and Magdalena Woyciechowska staying at the top of the leaderboard. Magda continued her consistent run, defending her second place after her penalty from the previous day. Leonie surprised her opponents with two first place finishes to put herself in fourth place.
Day 3:
Day three was the breakthrough for Maximilian Maeder (SIN) who has been on top of his performance since the competition started. This young man is only 13 years old; he impressed and shocked his opponents in the gold fleet finishing in 9th position and qualifying for the semi-finals.
Theo finally put an end to Axel's impressive winning streak, taking over final series race 5, but ending up in third position after a DNF in the last round. Mazella went into the event's ultimate races with two "match points'', while Nocher carried one "match point".
The remaining two contenders in the Medal Series will be the winners of the semi-finals, where the competitors ranked 3-14 in the opening series will fight for the coveted spot. Theo de Ramecourt of France and Slovenia's Toni Vodisek have the best chance of making the finals, but Florian Gruber is still in the game.
Magdalena is waiting in the women's Medal Series with Julia for the remaining two finalists, coming from Semi Final A and B. Gisela still has the chance to make it to the finals, but Ellie and Leonie are the favorites to make the cut and ultimately race for the 2020 European Championship titles.
The final day of the 2020 Formula Kite Individual European Championships saw a new format, introduced in the 2019 ANOC World Beach Games in Qatar, to ensure that the competitor "first over the line" in the final race is the Gold medalist, while avoiding the unfairness of a "winner takes all" race after a full week of racing.
On "Super Sunday" or we would call it "Drama Sunday", athletes were starting to crumble under pressure.
In semifinal A, Theo had all the chances to make it, but after a technical issue fell back to position six. It was his teammate Florian who won the first race followed by Connor Bainbridge (GBR) and Max Maeder (SIN). The decisive last race is when Theo's and Florian's dreams were crushed, as Theo lost his comfortable lead when he crashed on a jibe due to a wind shift and Florian couldn't pass Connor before the end of the race.
Having raced very consistently on his fresh VMG2 and Levitaz R5, the second semifinal was Martin Dolenc's (CRO) chance to make it to the final. A very hectic and even battle between the six competitors ended in huge personal success for Martin, who missed the finals only by 2 points but beat the former World Champion on track.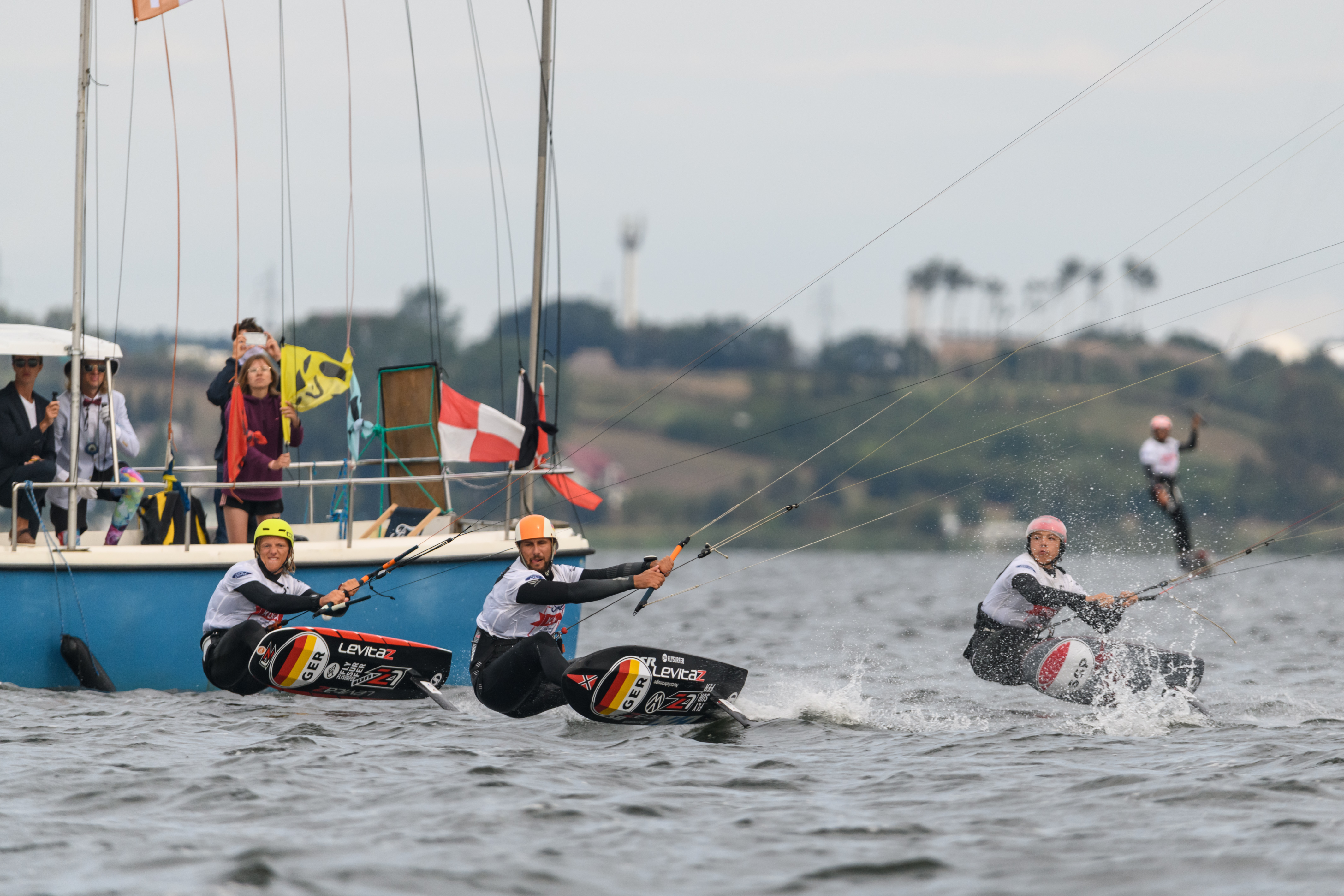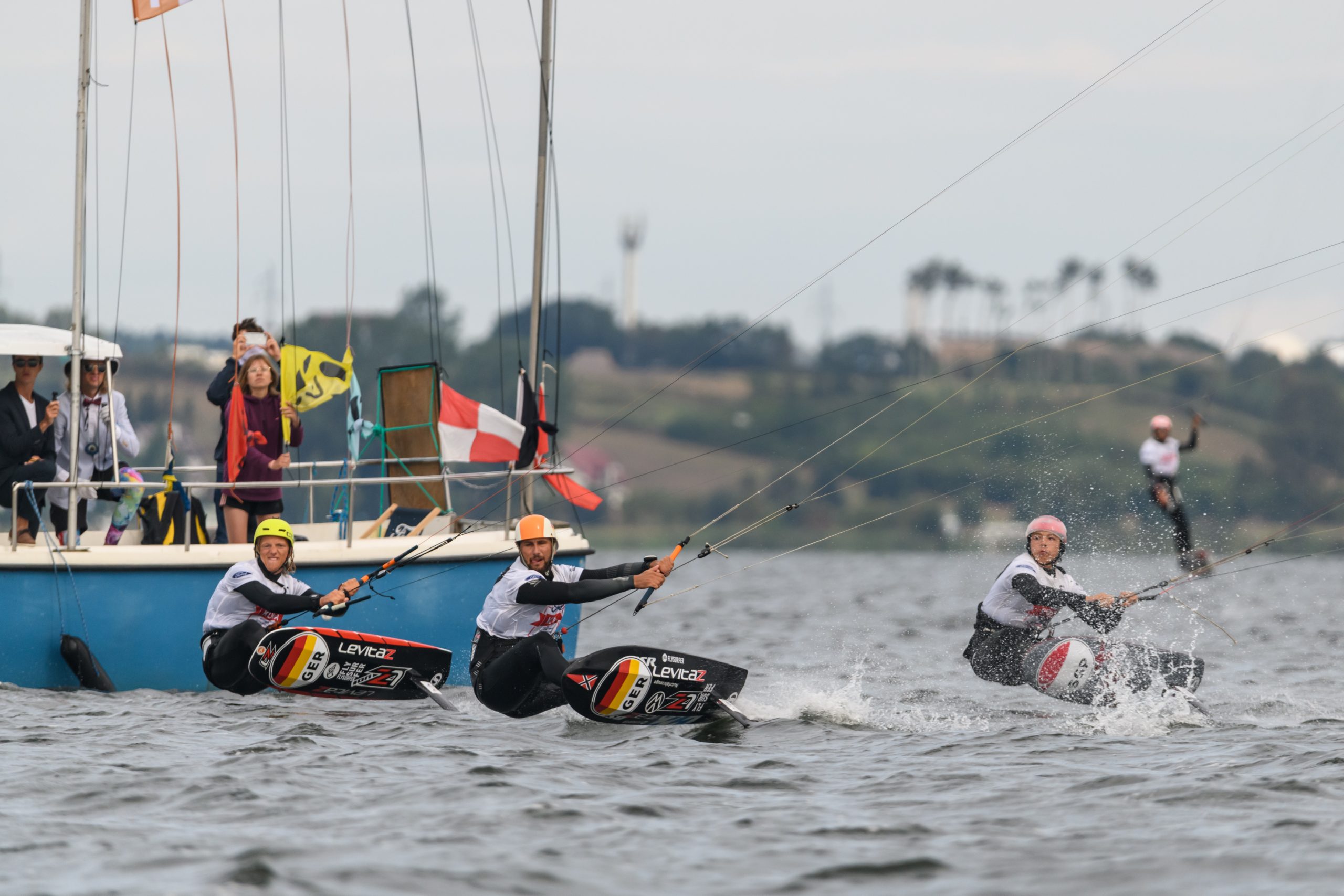 The ladies' semifinal A saw Gisela Pulido (ESP) bringing the fight to Ellie Aldridge (GBR), while on her heels and scoring a second place in the first run. A chaotic race with a huge wind shift and kites dropping all over the place. It was Gisela's misfortune in the lead to first enter a lull. Everyone else struggling as well, Maddy Anderson (GBR) managed to win her first race and send her teammate Ellie to the finals.
Semifinal B was more straightforward with Leonie Meyer dominating race one and securing her spot in the finals with a second place.
The Medal Series then continued, until one competitor reached 3 points. In the case of the Men's Medal Series, this was a short affair, as Mazella took off right from the start to the right side of the shortened race track, leaving his contenders in his wake, as he was able to do so often during this week.
As in the Men's competition, the only 15-year-old overall leader after the Opening Series, Julia Damasiewicz, needed only one more win to make it first to three points. It became a completely different business and went down as one of the most nail-biting finals of the Formula Kite class.
Medal Series Race 1 was won by Ellie Aldridge with a margin, leaving the rest of the fleet wondering if she would be able to keep the momentum. With two more (Semi Final) races in the legs, in building 15-20 knot breeze, endurance would also become a factor.
Medal Series Race 2 was a copycat of Race 1, with Aldridge leaving no chance to the Polish duo. Once more Magda showed great confidence and managed to finish both races in second position with Damasiewicz in third.
Medal Series Race 3 got underway, and this time it was Magda who phenomenally claiming the win! As a result, it was 2-2-2.
Medal Series Race 4 went off, and this time it looked like Leonie could take the win and extend the series for another race. But on the final downwind, Julia Damasiewicz managed to sneak past Leonie, giving her the long awaited third point to terminate the series.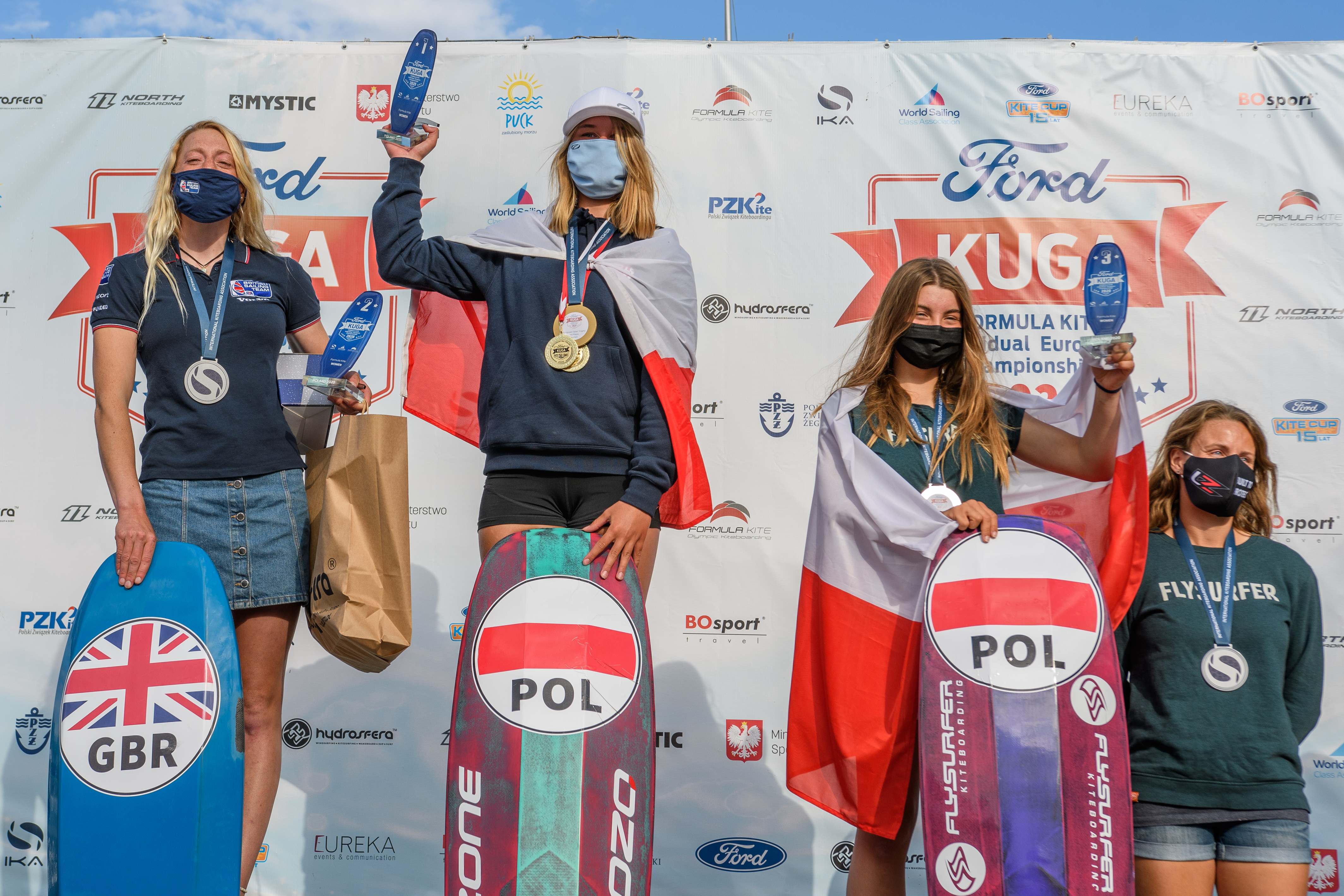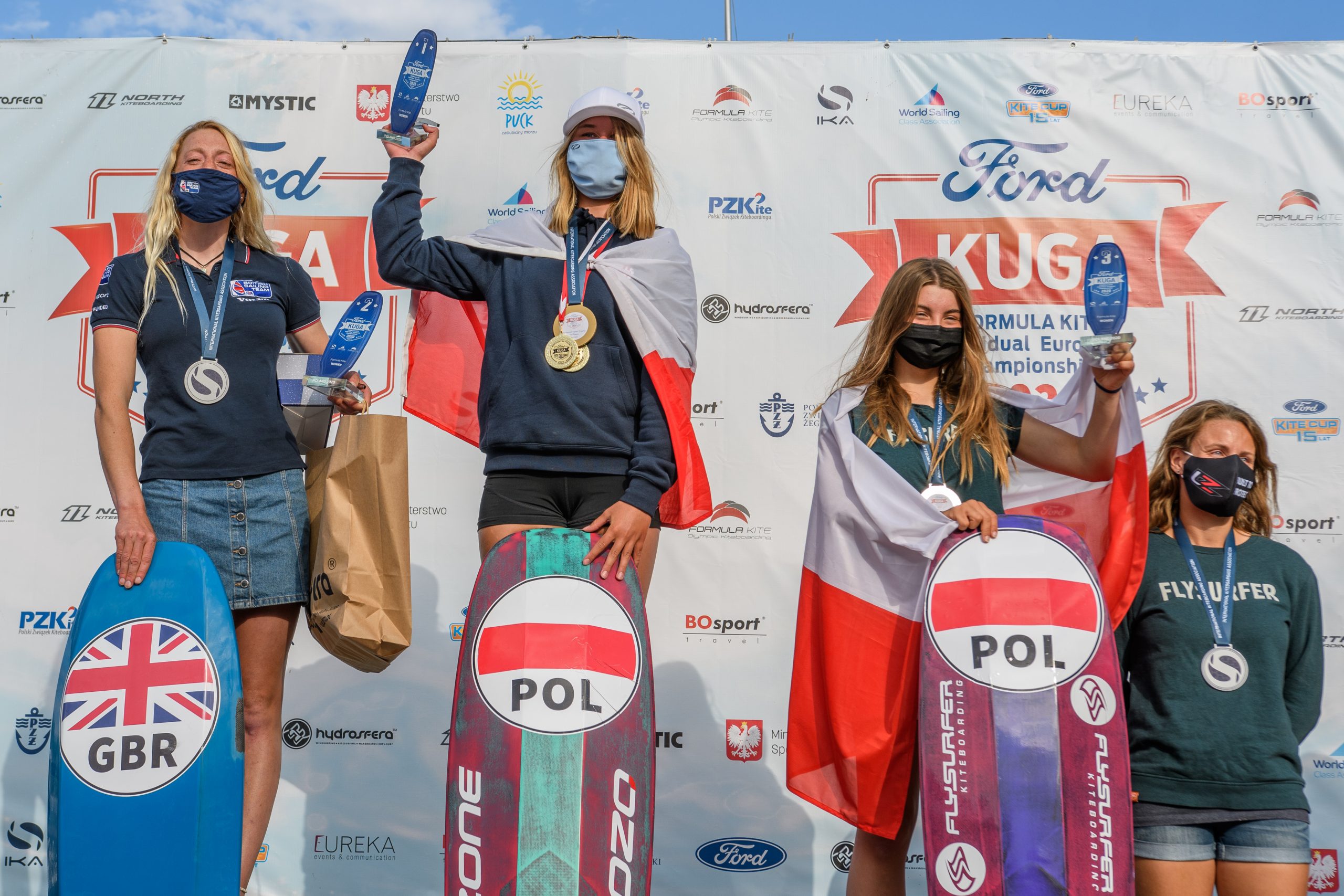 Let's hear from Leonie, who was super happy about her result:
"Super proud of my 4th place at the European championship after 10 months without events or course race training 🙌I managed it to win the first semifinal right away and made it to the final which was the only way to stay in 4th position. In the Final I could manage to do great starts and upwinds and was leading the pack quite often but I couldn't bring the bullet home. Girls you did an awesome job and the three of you totally earned it." Leonie Meyer (GER) – FLYSURFER Athlete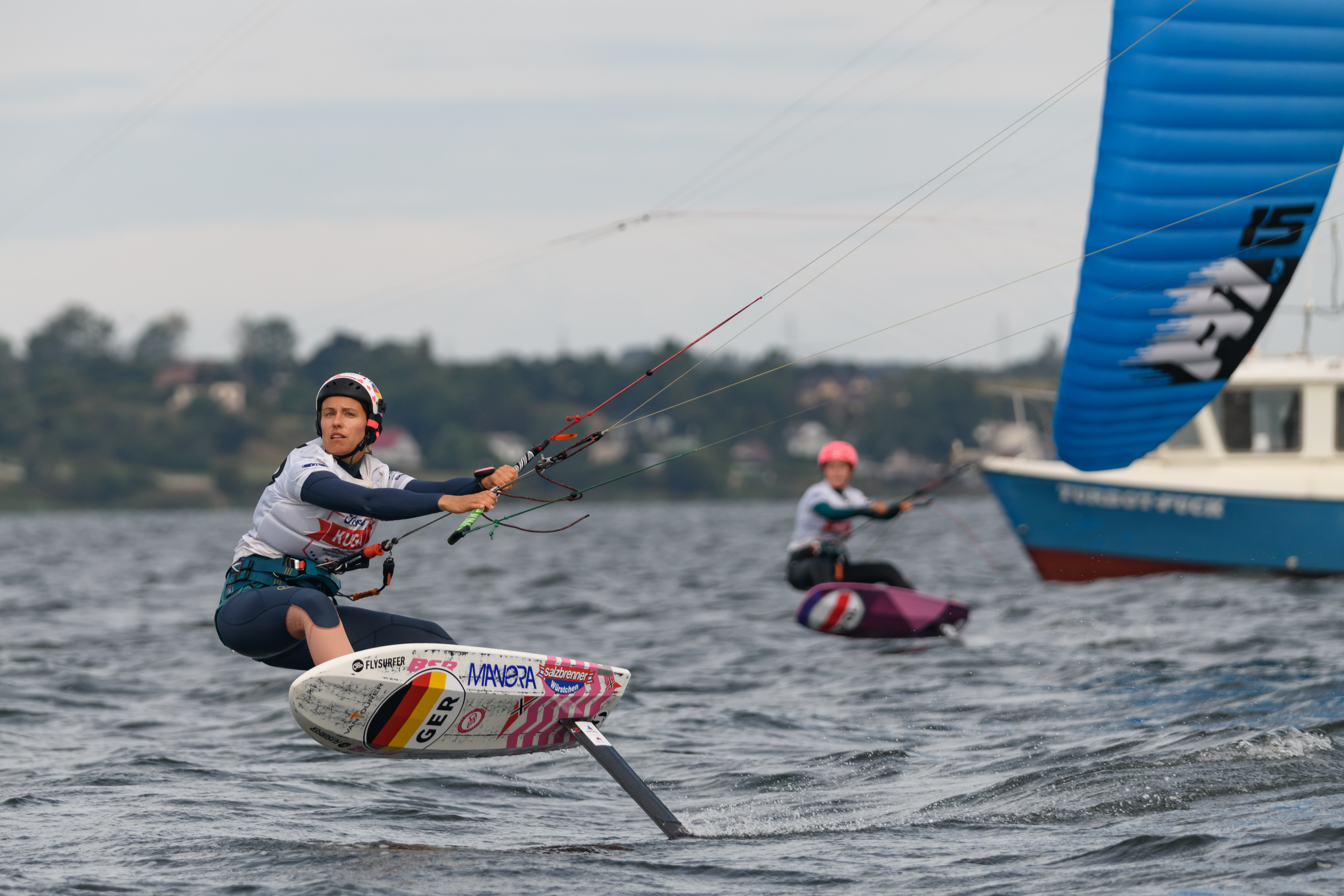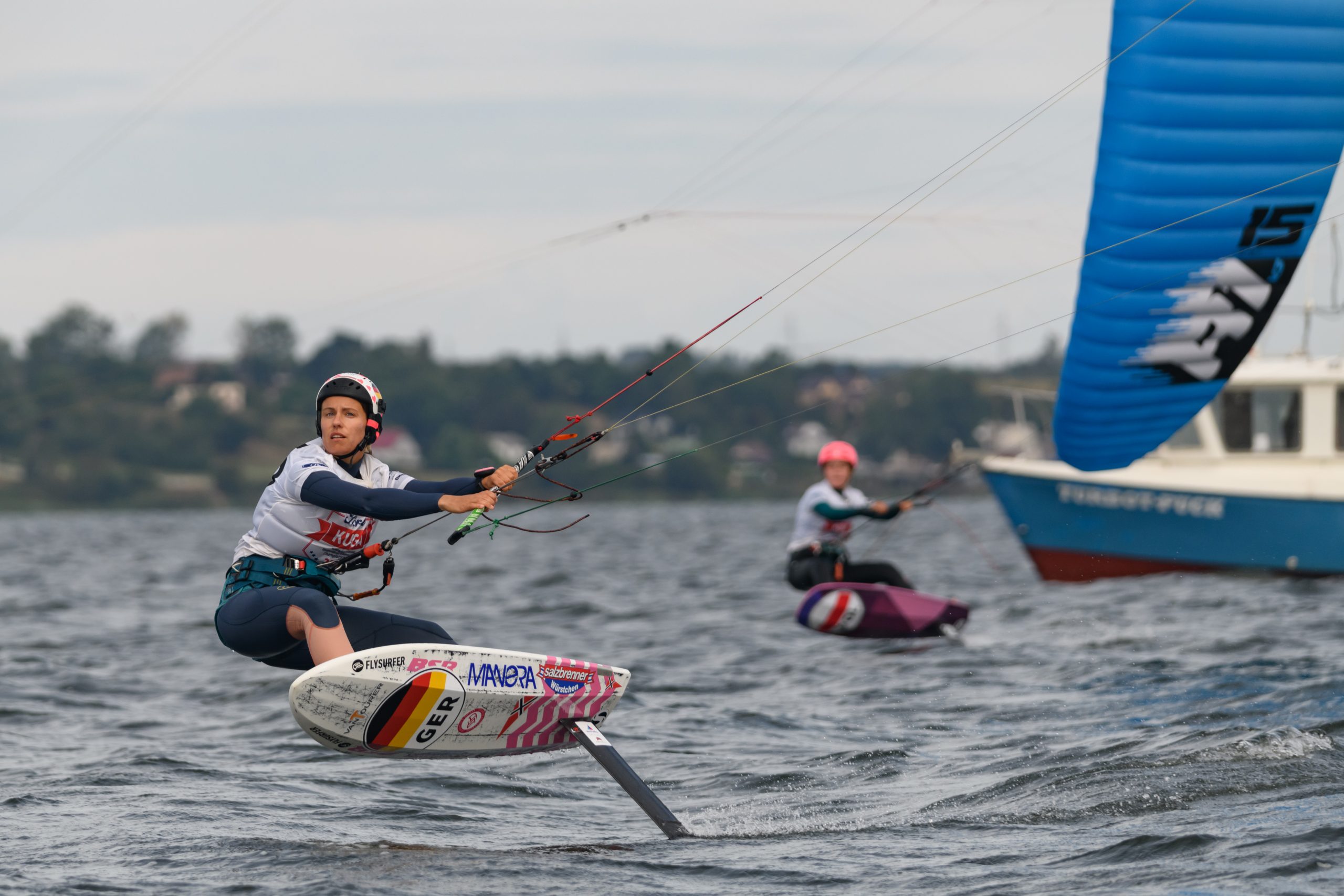 Congratulations to all the winners, you deserved it! We are extremely impressed by the evolution of the industry's leading-edge equipment and to see a performance increase by many riders on the racecourse. Improving their track times by 1 minute!
Most importantly, FLYSURFER is thankful to have such a great team and we are beyond proud of all our athletes. We recognized all the efforts put into racing by those individuals who are pushing the limits.
Photo Credits:
Dominik Leitner
IKA Dominik Kalamus