The early bird catches the worm, or in Simmo's case, the orange man shines brighter than the morning sun. The Ligurian town of Sestri Levante is in the northwest of Italy and is not a hotspot for kiters. Nevertheless, the place where "The Orange Man" has done an incredible 600 sessions and about 8518 km with his SONICs. We asked Mr. Romano what his goals are and why he chose FLYSURFER kites for his project.
Chris: Ciao Simmo, first, why orange? I always thought, Forza Italia, Forza Ferrari? 😀
Simmo: Haha, my friends used to ask that too, the answer is I like the color since I was a kid. All my toys have been orange for as long as I can remember, even my dog's name is Nespola. When I started kiting, I had an orange helmet and matching lycra. People jokingly called me "Orange Man"; the name stayed with me 😀. Of course, I'm a proud Italian!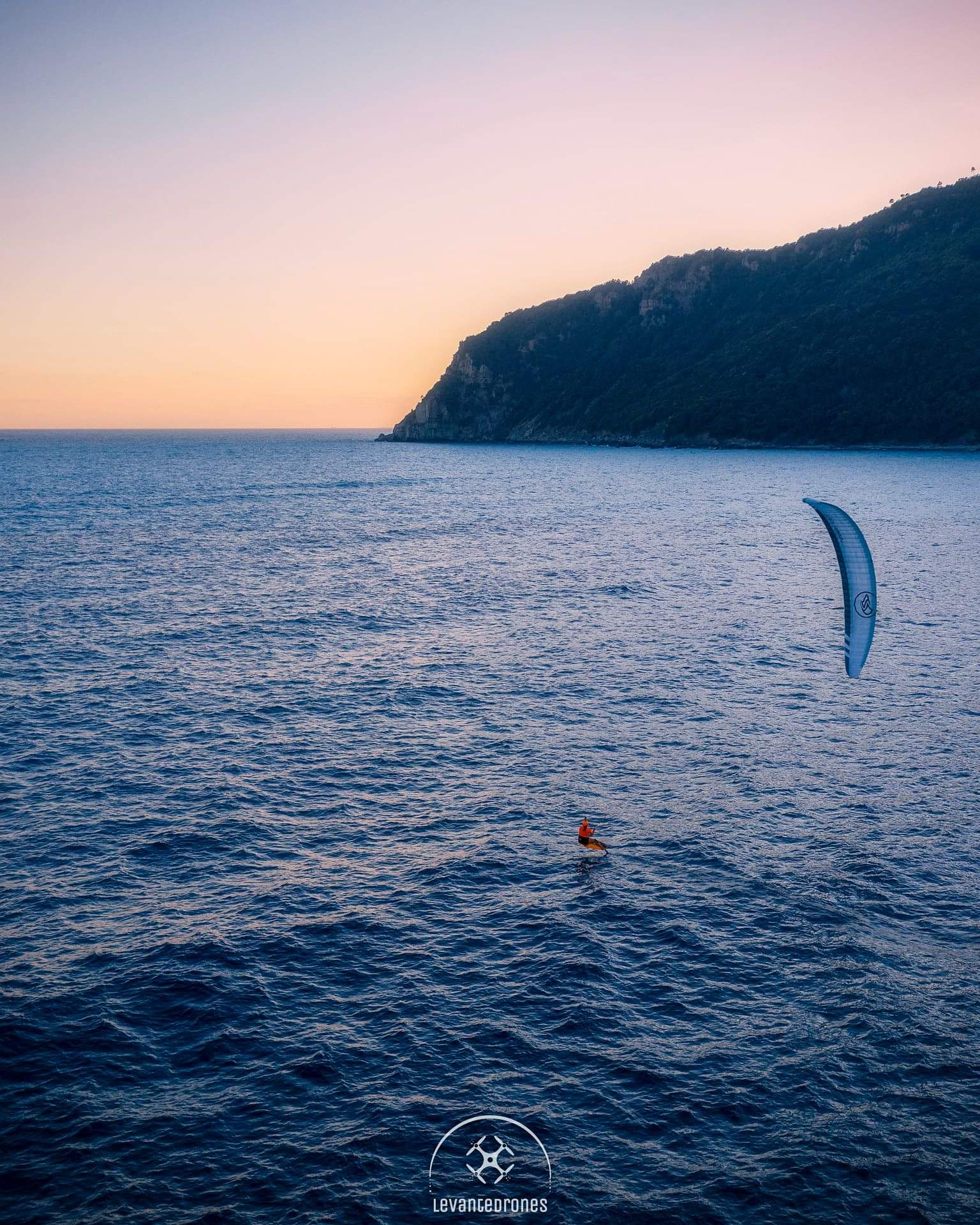 Chris: I thought you might have Dutch roots 😉. I still can't believe you recently posted your 600th session. You've hung on your kite for a whopping 8,600 km in the last year. How did you achieve that?
Simmo: It might sound extreme but kiting for two to three hours a day is enough. In the summer I must get up very early around 4:40 am to take advantage of the thermal wind. In winter the sessions are very cold, but I can be by the water during the day. The right equipment is also necessary, in my case a soft kite and a race foil. I cover about 70 – 80 km in two hours.
Chris: 4:40 a.m., it's pitch black, that's what I call determination. Having mentioned the equipment, why did you choose the SONIC over a VMG? Wouldn't the VMG be a better choice for track and race driving?
Simmo: I started racing with the SOUL and was surprised how well I could keep up with the highly specialized kites like VMG, R1, and Diablo. I can keep up especially downwind. When the SONIC came onto the market the following year, it was clear to me that it would become my kite. It has the best mix of readily available performance, stability, and security. Especially the thicker bridle lines and the reinforced construction speak for the product from the point of view of a heavy rider. It took me a long time to master the jibes and tacks with my race foil. If I have a kite in the air that I can rely on, then it's easier for me to train. The price compared to the race kites was of course also an argument. The other riders in the Master and Grandmaster Division are slowly beginning to understand me and are thinking about switching to SONIC. Cheaper, easier to drive, and still competitive!
Chris: Understandable and I'm glad that you were able to discover the SONIC for yourself. You're talking about training, what are your goals? What are you training for?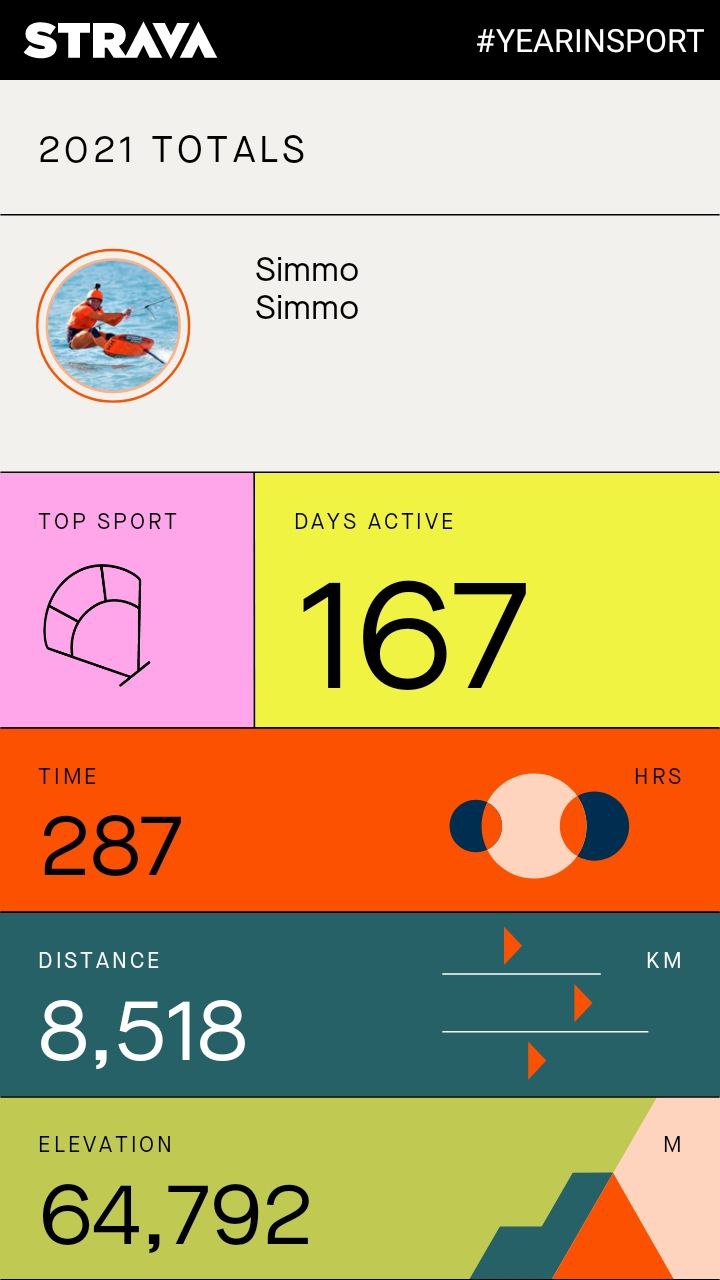 Simmo: I just want to be part of the scene, I like the racers, I like their attitude and I love to drive fast. Of course, I'm also interested in the competition and my goal this year is to improve to climb up the rankings. Winning the Italian Masters Division is my dream. Having fun is even more important to me than winning. My big plan for this year, however, is to crack 10,000 km. 😉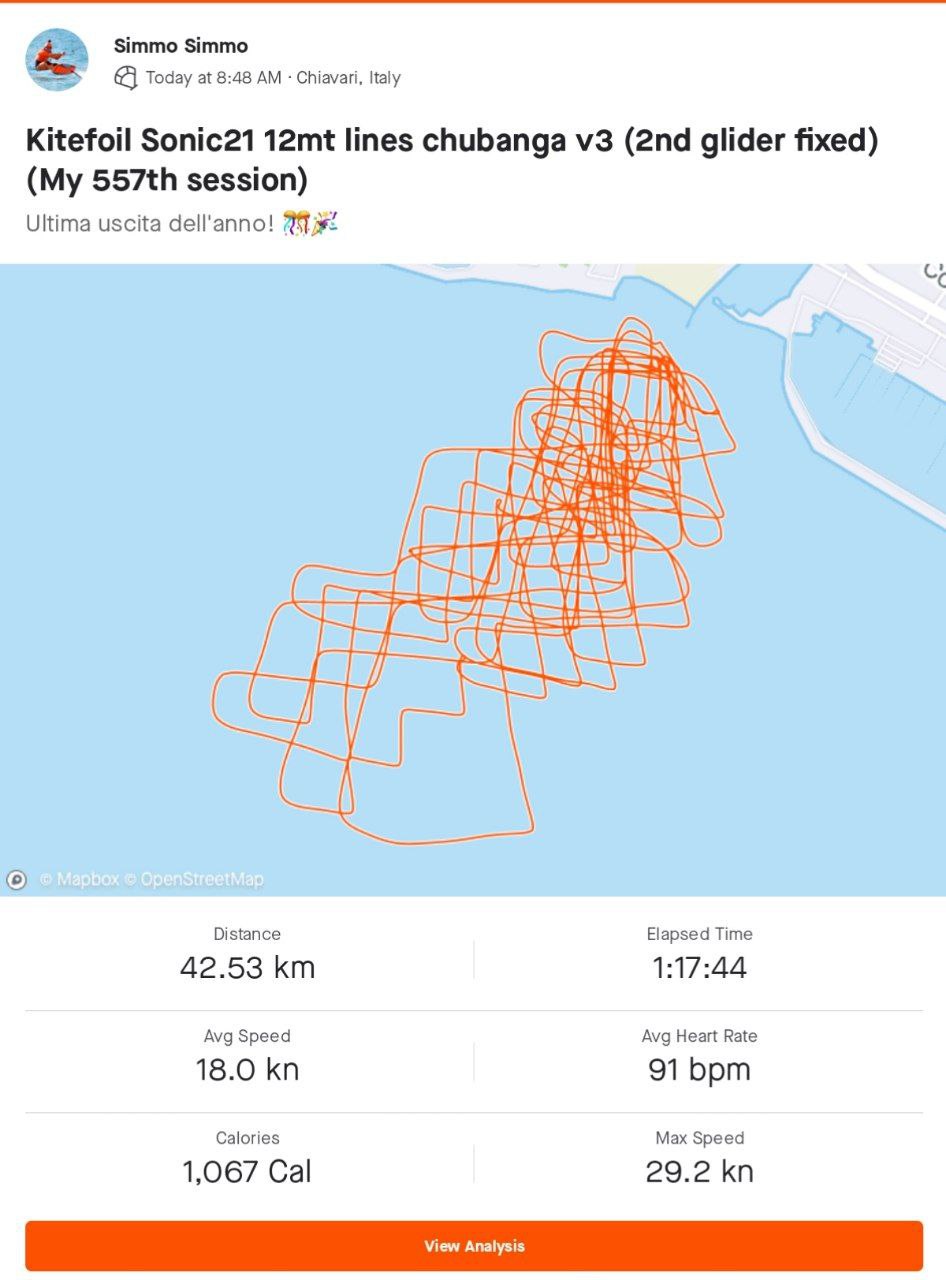 Chris: Haha, well, I'm excited and if I put my mind to anyone, it's you! Good luck, I hope you stand at the top of the podium this year.
Follow lifebeginsat10knots "The Orange Man" on his account and be inspired by his passion and unique approach to life.