The world record holder for the longest non-stop kitesurfing journey, Francisco Lufinha, wants to connect the Azores to mainland Portugal together with Anke Brandt. The Portuguese and German kiteboarders plan to sail/kite more than 809 nautical miles (1,500 kilometers) in between five to ten days.
Francisco Lufinha, 33, will try to complete the kite crossing alongside FLYSURFER rider Anke Brandt, who has already linked Bahrain and Abu Dhabi (303 miles or 489 kilometers) in 30 hours.
They will share miles in eight-hour shifts and hope to make history by successfully completing the longest ever journey by a kitesurfing duo. Of course powered with FLYSURFER Kiteboarding material, Lufinha and Anke will share a full quiver of STOKE kites for their long distance kitesurf mission to have material available where they can count on.
In 2015, Francisco tried to sail from Lisbon to Madeira but was only able to set a new Guinness World Record. He rode his kite 472 nautical miles (874 kilometers) non-stop.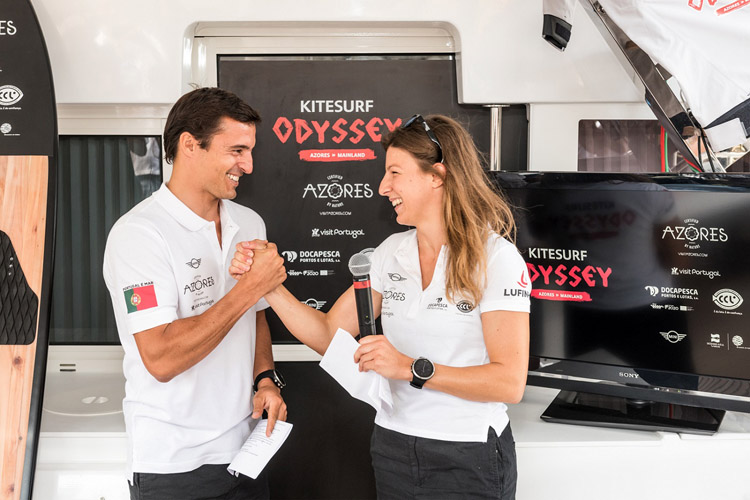 For the "Kitesurf Odyssey Azores Mainland" challenge, Lufinha and Brandt know what to expect. There will be constant wind variations, huge swells, and oceanic storms.
"I hope to see and have the whales guiding me, find a lot of sea life and finish off without any injuries. I want to be able to share our sea, and to fulfill the dream of connecting Portugal," says Francisco Lufinha.
Both riders will be followed by a support boat with a crew of eight, including a doctor, a physiotherapist, four skippers, a photographer and a cameraman.
The waiting period kicks off August 1, 2017. Francisco and Anke will begin the adventure in Sao Miguel, and hopefully will conclude the attempt somewhere in Portugal, depending on the weather conditions. Keep following our news for more information on this amazing project.
Source: surfertoday.com