PEAK
Touring, Freeride, School
The Peak has a universal application weathre on land or snow, with a landboard or buggy, skis or snowboards, freeride to teaching purposes, adults or children, begginers or advanced. The PEAK is your ultimate travel companion and a lot more. We might even see the occasional PEAK out on the water…
| | |
| --- | --- |
| TECHNOLOGY | Single-Skin Foil Kite |
| SKILLS | Beginner + |
| SIZES | 6 / 9 |
| TERRAIN | |
// ULTRALIGHT SINGLE-SKIN CONCEPT
// MINIMALISTIC PACK SIZE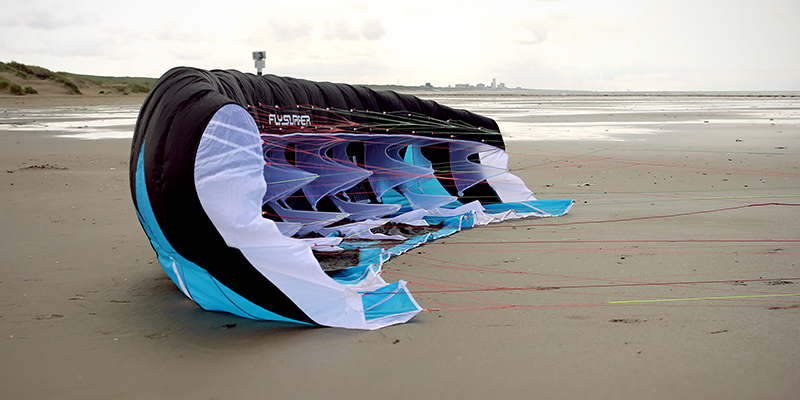 Innovative single-skin depower concept
This is a first in the kite market! Compared to its ram-air double-skin cousins in our line-up, the PEAK has no bottom sail resulting in a huge reduction in weight and more performance per square metre. The power is controllable due to the efficiency of the PEAK's depower system. The PEAK definitely sets new standards in regards to low-end, wind-range and pack size.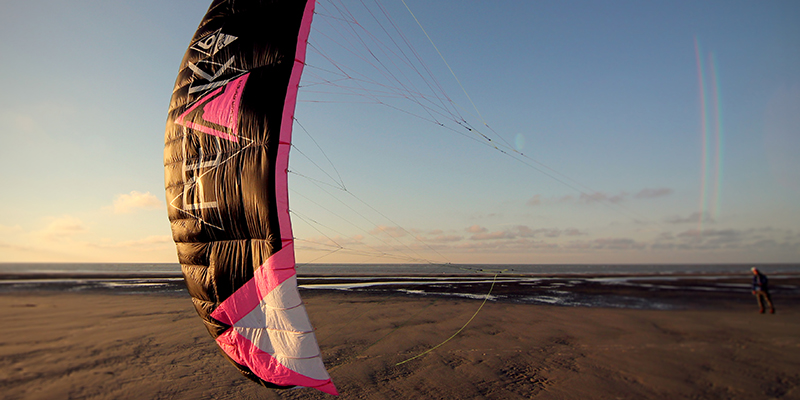 Fast and easy handling
No pre-inflating or pumping is necessary – the PEAK unpacks extremely quickly and is ready to go in the blink of an eye. The PEAK can be launched and landed on any kind of surface unassisted. Being easy to handle and quick to pack up after a session saves you time and a lot of hassle. This independence opens up a lot of possibilities.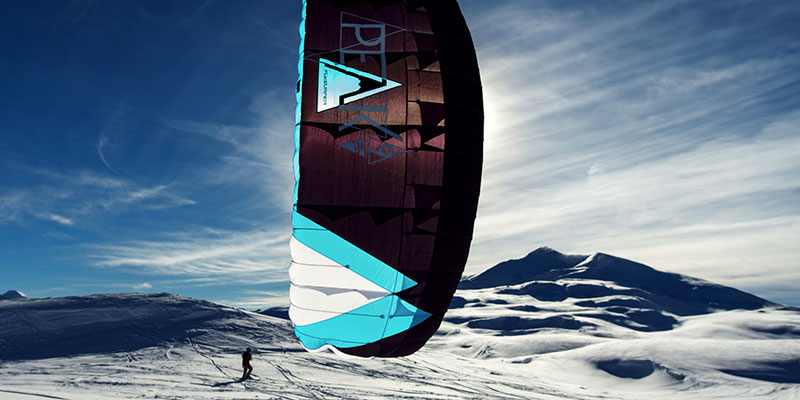 Unbelievable low-end performance
No other depower kite will get you going as early as the PEAK. At 3 to 4 knots the PEAK is ready to go on snow or land and handles well.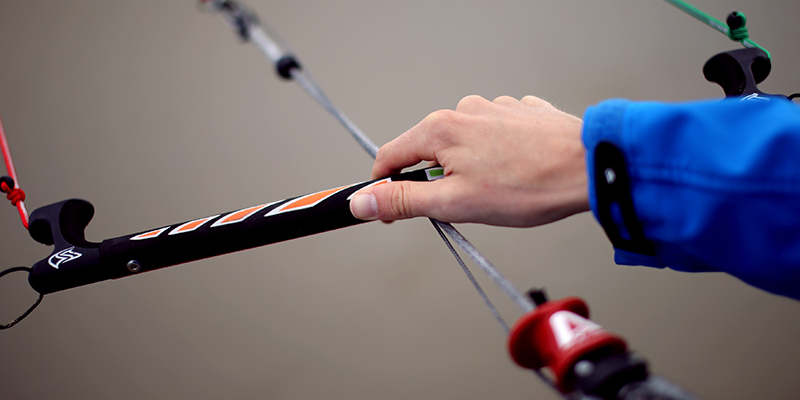 Ultra light bar-setup
For individual preference you can adjust the ultra light bar setup from freeride mode into touring mode within seconds. To do this simply re-adjust the trimmer knot.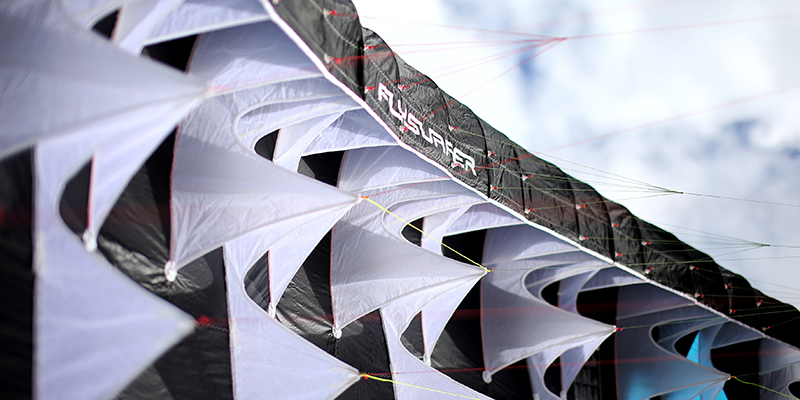 Ultra light
The light weight of only 1.58kg (6.0m ready-to-fly) is one of a kind. When going on a skiing tour the PEAK is not an extra burden but a great toy that may even get you to spots you had not thought of before. It is light enough to carry when there is only a small possibility of a snowkite session on a mountain plateau or in the back-country. Due to its light weight the PEAK can be looped easily even in light winds making climbing mountains a breeze.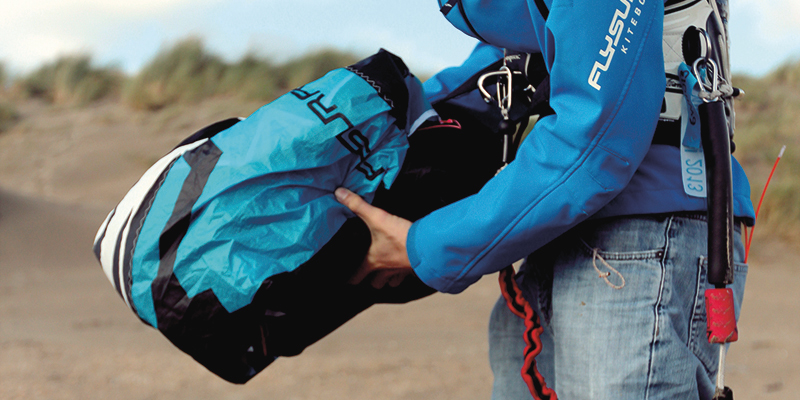 Minimalistic pack-size
Due to a super small pack-size of only 56x13x13cm for a 6.0m ready-to-fly PEAK – it fits easily in any travel bag. This can save costs on additional sports equipment charges. It is the perfect kite to squeeze into your bags when going on your annual family ski holiday and we are sure you will not be the only one to enjoy it!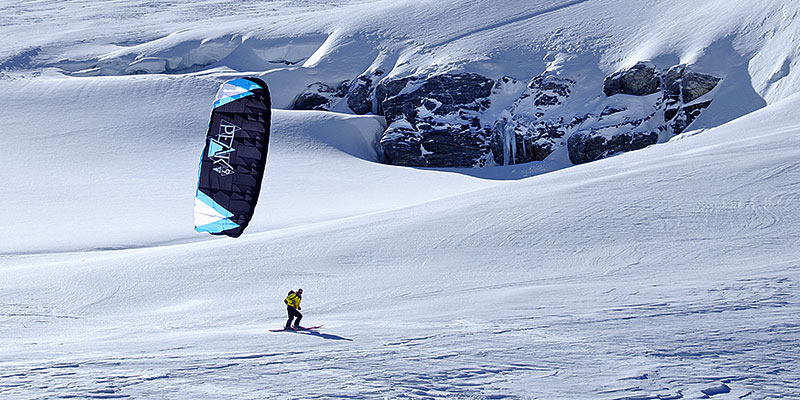 Quality of workmanship and durability
With the PEAK we remain true to our Flysurfer philosophy to make our products durable.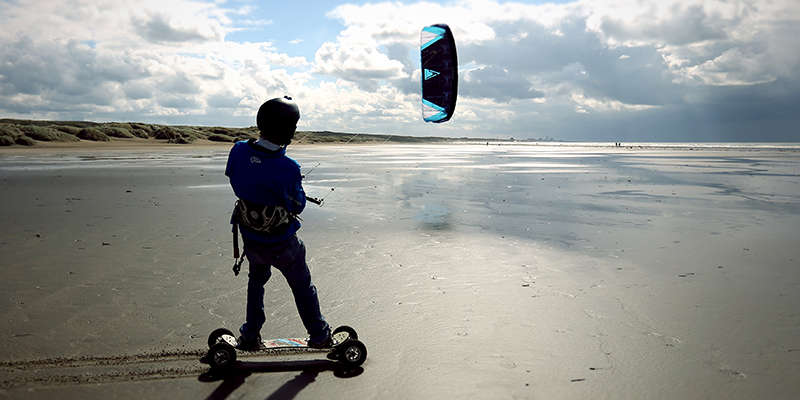 No compromise on safety
The 4-line bar is lightweight and very compact. When activated, the frontline safety (FLS) makes the PEAK flag out downwind with minimal pull. The Infinity 2.0 quick release can be re-assembled within seconds so your PEAK is ready to fly again.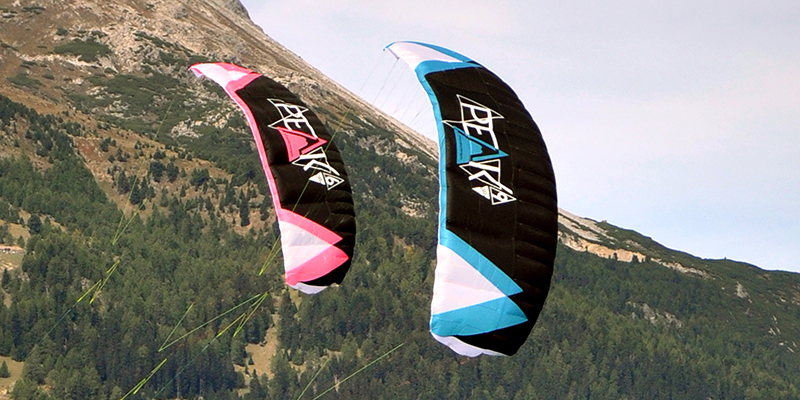 Great depower range
The PEAK has a lot of power per square metre considering that it is a depower kite. Due to reinforcements on the trailing edge as well as the leading edge the PEAK keeps its profile when being depowered giving it a great wind-range. The PEAK 6.0m feels like a conventional 10m soft-kite or leading edge inflatable kite. It is usable from 3 to 4 knots up to 20 knots (even more with shorter lines). This can save you the purchase of additional kites for the same wind-range.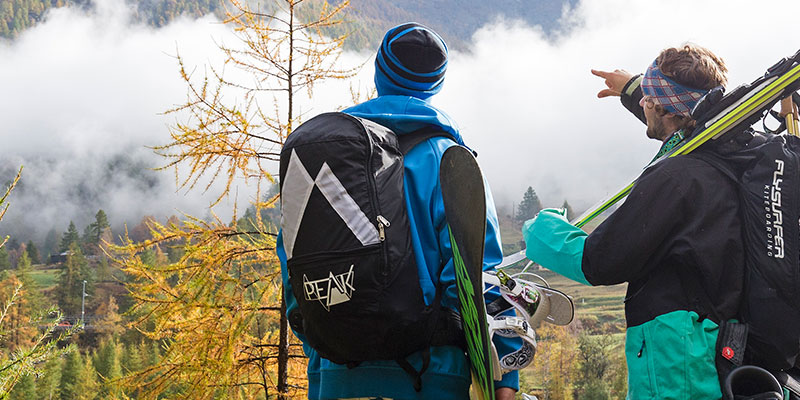 Touring bag with integrated kite harness
This optional extra is a light trekking backpack with an integrated harness in which you can put conventional hydration packs. The straps on the touring bag attach around your waist and thighs and the chicken loop attaches via a special metal loops. This saves the need to bring a standard bulky and heavy harness. This bag is not a harness replacement, its designed for maximum weight savings for expeditions and freeriding.
The PEAK is your personal lift to the summit of mountains. No pre inflating the kite or pumping – you are ready to go immediately. The lightest breeze and the PEAK will pull you to locations which previously seemed unreachable. The PEAK is super easy to handle even in extreme low wind conditions allowing you to get going earlier. However the PEAK is also easy to control in strong winds due to the direct and effective depower. To recap – you can have super easy control in light and strong winds with only one kite size and a super small pack size. For individual preference you can adjust the bar setup between freestyle or touring mode.
The PEAK is available in 6.0m and 9.0m ready-to-fly including control bar and lines. The PEAK is ideally suited for backcountry touring, freeride Snowkiting, kite landboarding or buggying and of course for expeditions or teaching. With short lines it is also great for urban street kiting. The PEAK fits easily in any travel bag so you can always take the PEAK with you on your next trip. Super simple and easy handling makes it ideal for children or beginners. The PEAK can be ordered with a special kite bag which is a super light trekking backpack equipped with an integrated harness. Put your hydration pack in it and you are good to go. The straps are fixed around your waist and thighs and the chickenloop attaches through metal loops. This saves on packing a bulky and heavy harness when you want to travel light. The PEAK can be set up anywhere and is ready to go immediately, no matter where – on a snow plateau, in a field, on the beach, on asphalt or even in the dessert. Lift your game with the new PEAK by Flysurfer!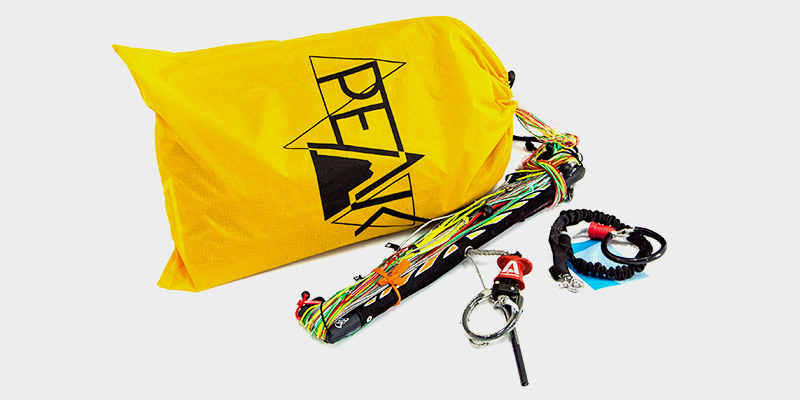 "Ready-to-Fly" package consists of:
1x PEAK Kite "ready-to-fly"
1x PEAK Kite Bag
1x PEAK Gear Guide
1x Repair Kit
| PEAK | 6.0 | 9.0 |
| --- | --- | --- |
| Color | Black// White // pink | black // white //cyan |
| Area (projected) | 5.4 | 8.1 |
| Aspect Ratio | 75...90% | 75...90% |
| Cells | 21 | 21 |
| Line length (m) | 21 | 21 |
| Flat Wing Span (cm) | 401 | 490 |
| Weight Kite only (kg) | 0.98 | 1.40 |
| Weight ready-to-fly (kg) | 1.58 | 2.00 |
| Packing size HxLxW (cm) | 56x13x13 | 56x16x16 |
| PEAK | 6.0 | 9.0 |
| --- | --- | --- |
| Land (knots) | 3-16 (max. 20) | 3-12 (max. 15) |
The Wind Range Chart is to be used as a point of reference. It is based on a rider who weighs around 75kg (165lbs.) Actual use will vary depending on your weight, skill level, board size and the wind conditions on the water or land. When choosing a kite size, always use common sense and always choose a smaller size if you are not sure, especially when using the kite on land.