Last Friday was Florian Grubers first snowkite day of the season and it was directly an important one, the Snowkite European Championship 2017 took place in Resia on Lake Reschen (IT). Unfortunately the weather conditions didn´t seem good at first; Not a lot of wind and the snow was very slushy. Florian his skies were well prepared but at the start of the Long Distance race he noticed that his downhill skies were not the perfect choice. The upwind went well for him but downwind his skies sunk into the snow. The riders with longer and wider ski were better off since they did not sink into the snow. He tried to do his best but at the end he was ranked 5th.
Other FLYSURFER riders; Michael Kaspar (CH) and Markus Pompl (DE) showed high-class performance though, by filling the podium with a great 2nd and 3rd place in the Ski class. In the Snowboard class 2nd place was for FLYSURFER rider Reinhold Gehrer (AT) and 3rd place for FLYSURFER Italy importer Aldo Storelli (IT). Congratulations all!
The second day of the International Snowkite Open started out much better, because the snow froze overnight due to really low temperatures. Six races were held and in the Ski class FLYSURFER rider Florian Gruber showed a perfect performance on his SONIC2 kites, scoring 6 bullets out of 6 races, making him the clear leader into the final day of the European Race Championships and gave him a great position for the final competition day. In the Snowboard class, FLYSURFER riders Davide Bizotto (IT) and Reinhold Gehrer (AT) fought hard for 1st, 2nd and 3rd place, clearly showing dominance over the rest of the Snowboard fleet.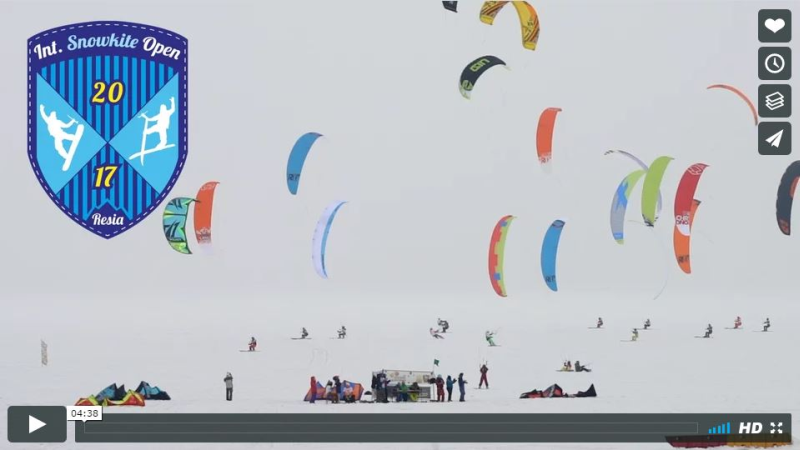 The last competition day started with only little wind and everybody thought the final races would not take place, but right before the award ceremony the wind got stronger and the last races could still take place. Because of his performance of the past day FLYSURFER rider Florian Gruber could succeed his European Championship title in Snowkite Race. To not get hurt he didn´t ride at full risk and so could control his ranking. In the end he was able to celebrate his 5th European Snowkite Championship title!
FLYSURFER riders Davide Bizotto (IT) and Reinhold Gehrer (AT) finally settled themselves in 2nd and 3rd place on the podium in the Snowboard class keeping the FLYSURFER team ranking high!
FLYSURFER would like to thank the organization and all volunteers of the Int. Snowkite Open 2017 for a great event.
See you next year!
International Snowkite Open 2017 Results:
European Championships Long-Distance (Men Ski)
1. Felix Kersten
2. Michael Kaspar – FLYSURFER
3. Markus Pompl – FLYSURFER
European Championships Long-Distance (Men Snowboard)
1.Jonas Lengwiler
2. Reinhold Gehrer – FLYSURFER
3. Aldo Storelli – FLYSURFER
European Championships Race (Men Ski)
1. Florian Gruber – FLYSURFER
2. Felix Kersten
3. Kari Eisenhut
4. Michael Kaspar – FLYSURFER
European Championships Race (Men Snowboard)
1. Jonas Lengwiler
2. Reinhold Gehrer – FLYSURFER
3. Davide Bizotto&nbsp – FLYSURFER